The history of Cams.com dates back to 1999, when the industry of adult webcams was in its early stages and there weren't as many great cam sites as there are today. At the time, Cams com was one of the undisputed leaders of the market, but the situation has changed since then.
Right now, Cams.com is somewhere in the middle of popularity ranks among webcam sites. The service regularly introduces new features and works on its model range, but are they good enough for you? Find out from our Cams.com review on AdultCamLover!
✅ Pros
Decent selection of models
Modern, easy to use design
❌ Cons
No mobile apps
Paying for the services can get too expensive
Customer support not available via live chat
Not too many exclusive models
How It Works
Whether you are a novice webcam user or an experienced fan of adult webcam shows, you want to know what to expect from your time on Cams.com. Here is how your user experience is going to go.
Signing up at Cams.com
The home page of Cams.com gives you a good insight into the things you can find on the site, but you will need to create your account to experience it all. Signing up for Cams com is free and you can do it within a couple of minutes. The site will ask for your email address, username, and password. Confirming your registration via email is not mandatory, but the site offers to deliver a free adult video to your email if you do.

Interface
Once you have your own Cams account, you can begin to explore the site. On the home page, you can find all webcam shows currently running live on Cams com. You can tailor the selection by choosing models from different regions and performers who speak different languages using the menu in the top right. On the top left, you can switch between female, male, and trans performers. On the left, there is an extensive list of filters you can use to find what you are looking for on Cams, including age, ethnicity, specialty, kinks, appearance traits, and more.
The main site menu is located on top of the page. In this menu, you will find links to all models who are currently online, new models, pre-recorded videos, tags, interactive videos, and models you've recently viewed or subscribed to. In the same menu, you can review your messages, update your profile, or add funds to your account.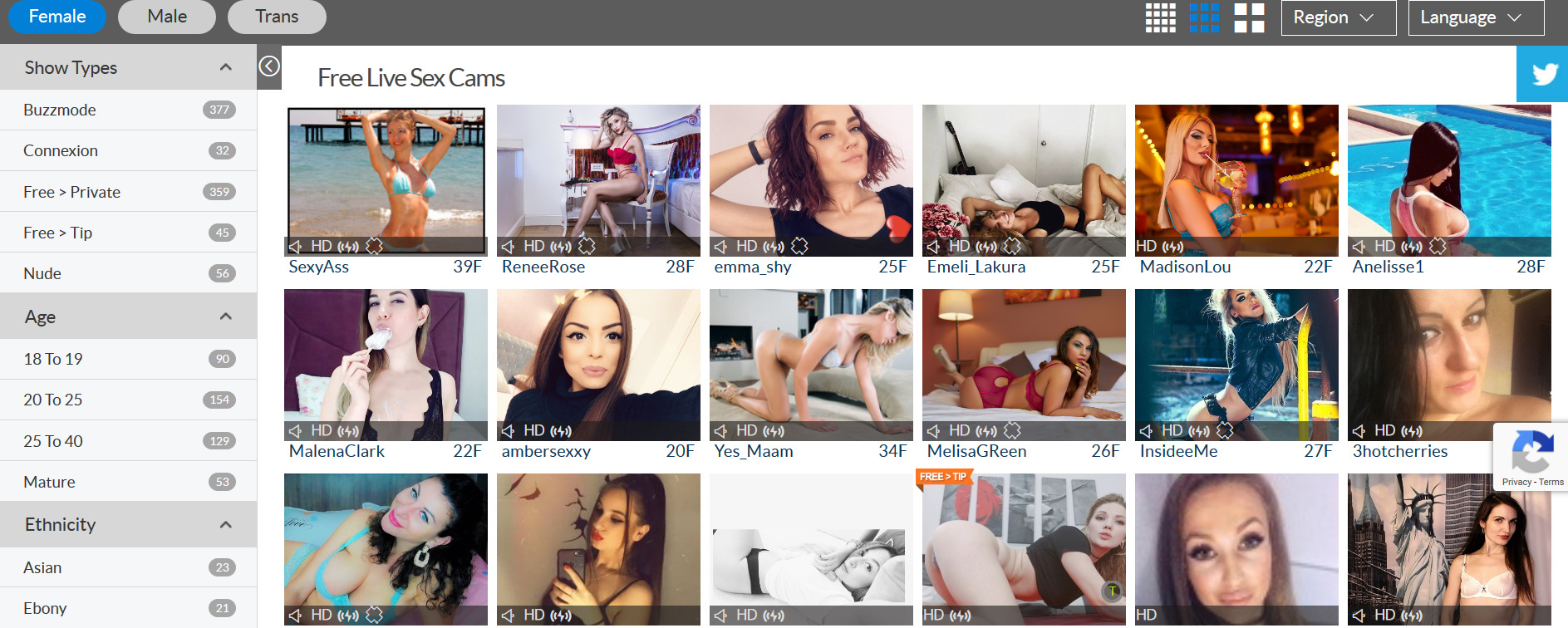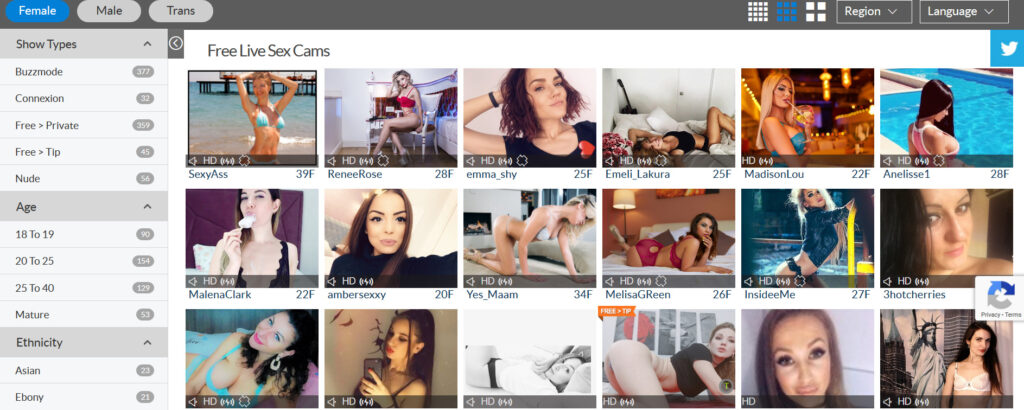 Model profiles
Cams.com does not offer animated previews of live shows, so to see any model in action, you will need to visit her profile. If the model is currently performing a live show, you will see the broadcast on the left and the chat to the right. During a public show, you can tip the performer, send them a virtual gift, or invite the model for a private show. If you scroll lower, you will find the model's profile, where she describes her personality, appearance, turn-ons, turn-offs, and more. In each profile, you will find a selection of the model's photos and videos, but most of them are available only to paying members.


Audience
Cams.com does not have the world's biggest selection of webcam models, but you will find from 300 to 500 models performing on the site at any time of the day. Most of the performers on Cams are women, but there is also a decent range of male and trans models, as well as couples.
If it's your first time visiting a webcam site, you will likely find the selection of models impressive and suited to any taste. However, if you are a regular on any other cam service, you will probably see a lot of familiar faces. The truth is that most Cams com models also perform on other sites and there is simply not enough exclusivity offered by Cams.
Pricing
Cams.com calls itself a free webcam service, but that is not entirely true. There are some things you can do for free such as sign up for the site or view public shows, but you will need to pay to get the complete Cams com experience. There are several ways for you to spend money on Cams:
Tokens
Premiere membership
Model fan clubs
Tipping the performers
Virtual gifts
Tokens are spent on private and group shows. A Premiere membership, which costs $19.99 per month, unlocks access to a few additional features, including email communication with the models and nude show photos in model profiles. You can also join the fan club of any model on the site for $14.99 per month to get a discount on her private shows and access to her pre-recorded or custom videos.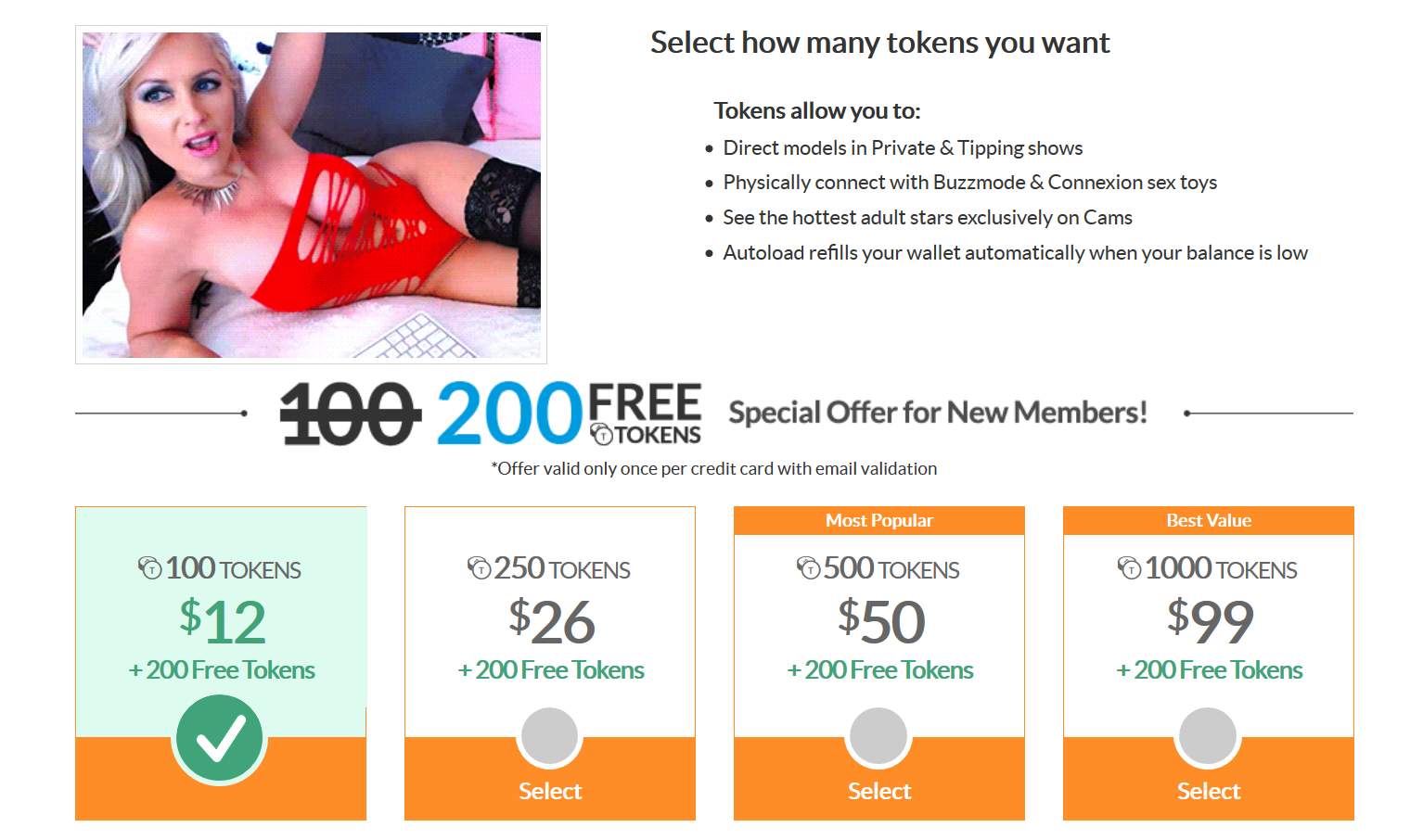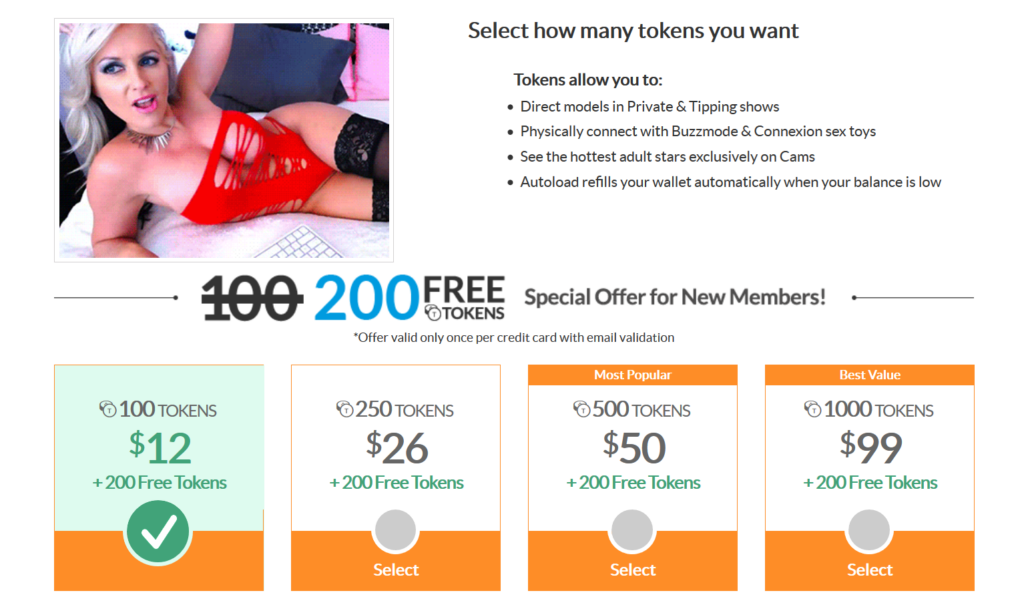 Safety
Here at AdultCamLover.com, we pay special attention to the safety features of a cam site, and this is what we found while working on our Cams.com review. Unlike many of its competitors, Cams com has not been involved in any security leaks and other controversies. The site uses SSL encryption on every page to protect the data of its customers and never makes you share more information than you want. 
The purchase of tokens or membership will be reflected on your bank statement under a different name. The site also has a comprehensive Help section, and if you don't find the answer to your question there, you can also contact customer support via the form on the site, phone, or postal service, although live chat customer service is not available.
Summary
Cams.com is one of the sites that started the whole adult webcam craze, but it has managed to keep its design and selection of services modern and fit to the tastes of most viewers. However, with higher than average prices, the lack of mobile apps, and limited features for free members, Cams is not the best option for adult webcam fans.
FAQ
What is Cams.com?
Cams.com is an adult live sex show site that has been around for more than 20 years. On Cams, you can find webcam broadcasts from male, female, trans models, and couples performing various sex acts or even simply talking to the viewers via chat.
Is Cams.com safe?
Cams com appears to be a safe webcam site. The pages of the website are encrypted to protect user data and you don't need to provide any of your personal information besides your email and payment information in case you decide to become a paying member.
How much does Cams.com cost?
The most popular way to spend money on Cams com is to pay for a private show. Most private shows are in the $2-$6 per minute range, although you can sometimes find new models willing to perform for less than that.
Is Cams.com a scam?
No, Cams.com has been around long enough to prove it's not a scam. There are occasional situations with models underperforming in private shows, but there is nothing that could make us call the entire service a scam.
Can I use Cams.com for free?
You can create your Cams account and view most public shows for free. However, a free account does not allow you to fully interact with the models, direct live shows, view pre-recorded videos and nude photos in model profile, and access other essential features of the service.
Does Cams.com have a mobile app?
No, there is no Cams.com mobile app that you can download on your smartphone or tablet. If you want to use Cams on your mobile device, you can open the Cams.com mobile version in your browser, but it won't have as much functionality as the desktop version.
Are there any sites like Cams.com?
For sure! Even though Cams is one of the oldest webcam services still working today, there are plenty of competitors that offer the same or better selection of models and additional features. Make sure to check out other reviews on Adult Cam Lover and you are guaranteed to find your new favorite cam site!