SkyPrivate is an adult webcam service that was launched in 2013. At the time, the competition in the webcam industry was already stiff, but Sky Private had one significant advantage over its competitors: all shows were broadcasted via Skype, one of the world's most popular messengers of the 2010s.
Since then, the situation with messengers has changed and now there are not as many people using Skype compared to other messengers. Still, SkyPrivate offers the same functionality as it did 7 years ago at its launch. So is Sky Private still a good place to get your live sex show fix? Find out from our SkyPrivate review on AdultCamLover.
✅ Pros
Appealing design
Attractive, willing to please models
❌ Cons
Skype live shows are not very convenient
Limited range of models
No broadcasts directly on SkyPrivate
How It Works
SkyPrivate's way of delivering webcam services is slightly unusual and there is a chance you have never experienced this type of adult webcam shows before. Here is what you can expect from your time on Sky Private.
Signing up at SkyPrivate
Your journey through SkyPrivate.com starts with the home page, where you can already learn a lot about the service and what it offers to the visitors. You can even see some of the models without signing up, but you won't be able to communicate with them or get the full Sky Private experience without creating an account.

The first part of the SkyPrivate registration looks identical to any registration form you have ever filled in on a webcam site: you need to specify your account type and email, choose your username and password, and you are good to go. Once this step is completed, you will need to verify your new account via email and then enter your Skype login if you want to be able to arrange private shows with the models.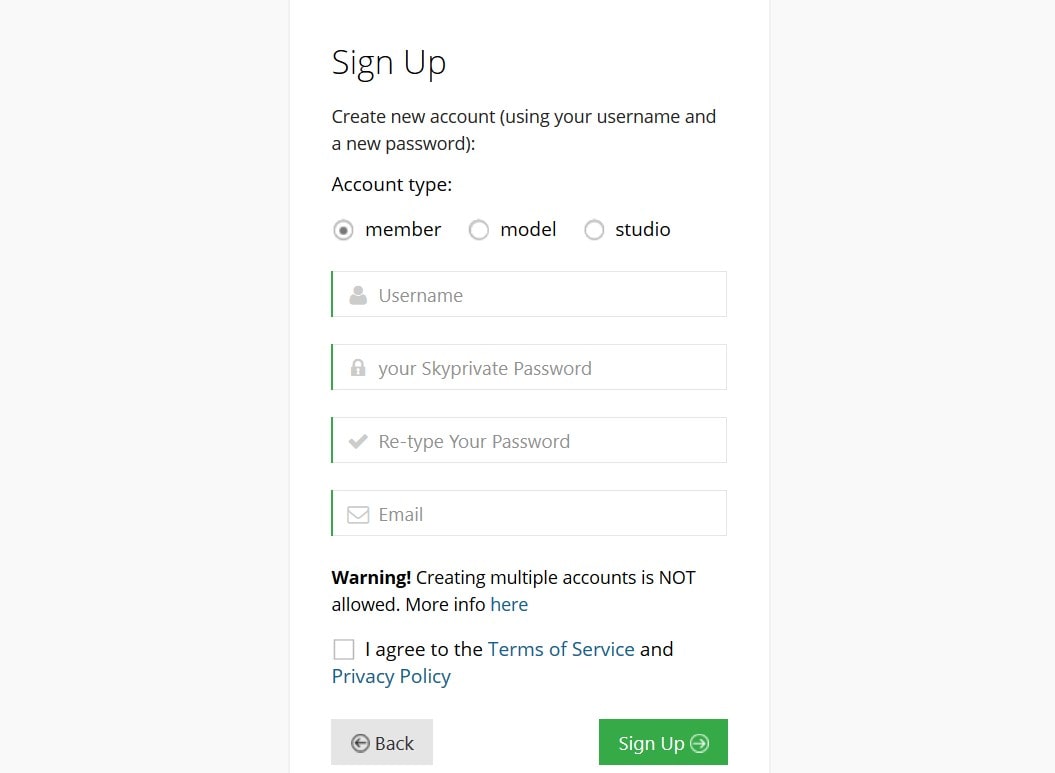 Interface
The interface of SkyPrivate is extremely simplistic. On the home page after you log into the site, you will see a collage of all available models. You can use the drop down menu to switch top models, new models, and their rating, or use the filter to narrow down the selection of models you can choose from. The filters on SkyPrivate include gender, age, price per minute, and languages. If you have some specific feature, action, or kink on your mind, you can enter it in the Keywords field of the filter.

In the top right corner of the screen, you will find your profile controls. Here you can add money to your account, see your favorite models, visit the list of models you have viewed before, or review your scheduled shows with the Sky Private models.
Model profiles
Clicking on the profile photo of any model on SkyPrivate.com will take you directly to her profile on the site. On top of the page, you can often see a brief video preview of the model in action, but since the SkyPrivate performers don't actually broadcast their shows on the site and instead do it via skype, those previews are pre-recorded.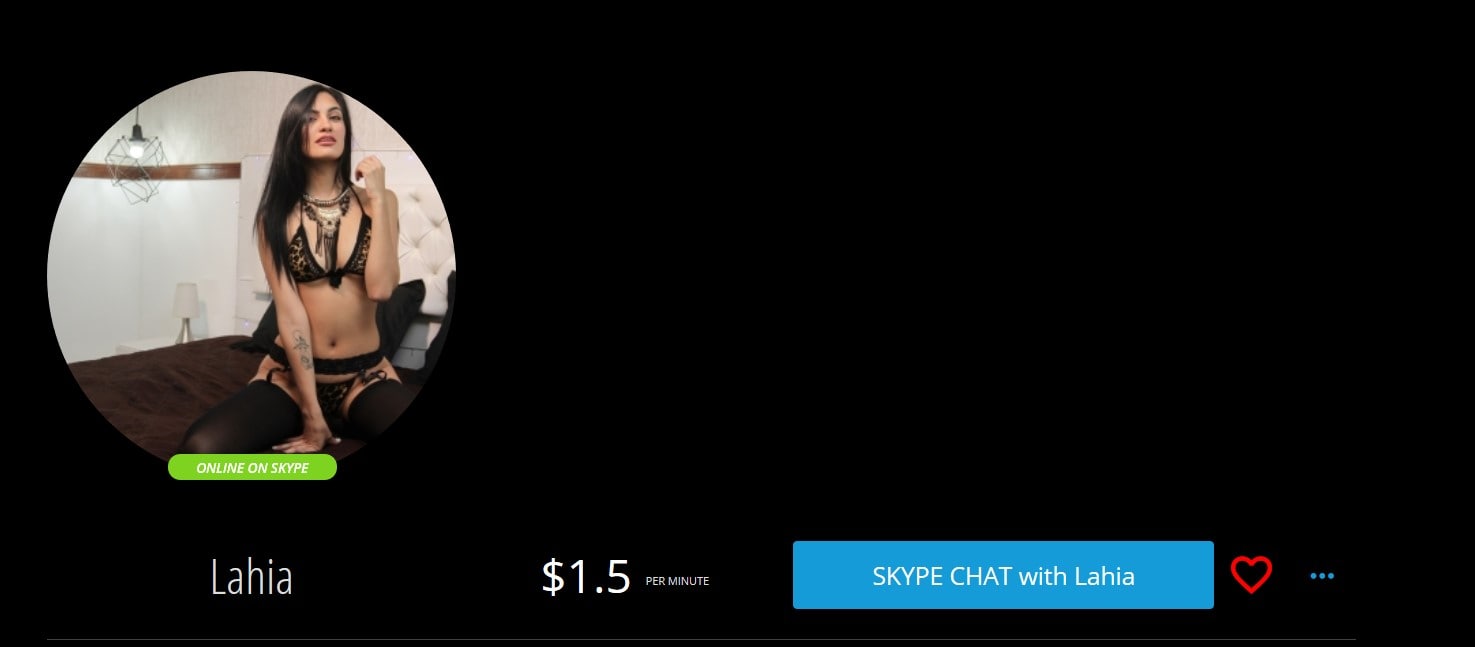 From a model's profile, you can learn her nickname on the site, find out about her rates, and arrange a private Skype show. If you scroll further, you will discover her complete profile, where the model shares some of her appearance and personality features, likes and dislikes, and more. Most models on Sky Private also have a collection of their personal photos in their profile that can be viewed absolutely for free.
Audience
SkyPrivate claims there are over 27,500 models working for the site, but you will find around 400 to 500 models online on the site any time you visit it. Since there are no private shows broadcast directly on Sky Private and all broadcasts are done via Skype, there is a possibility that a lot of models will be unavailable for a show even if they are currently online, so you will need to either choose another model or schedule a performance when your favorite model is available.
When working on our SkyPrivate review for AdultCamLover.com, we took a detailed look at the model database and discovered that it is not very diverse. There are some couples, men, and trans models performing for the site, but most of the Sky Private models are young and attractive women. It is possible to find some unconventional performers on SkyPrivate, but you will need to use specific filters for that.
Pricing
If you are mostly used to visiting freemium webcam sites, where you can watch some performances for free and then tip the model if you enjoyed the show, you won't find anything like that on Sky Private. On this webcam site, all performances are done outside of SkyPrivate and only on a paid basis.
Every model has a fixed rate per minute that is calculated based on her rating, variety of services, availability, and other factors. Most models on SkyPrivate work for $1 to $3 per minute, although the rate can go up to $12 for the most exclusive models. You can put any amount of money on your account and only spend them on private shows.
Safety
Here at Adult Cam Lover, we want our readers to avoid any safety problems when using webcam sites, which is why we always pay special attention to the safety situation on every cam site we review. In case of SkyPrivate.com, we did not discover any safety issues except for the fact that you need to share your Skype login not only privately with the model, but with the site itself when signing up for the service.
At the same time, it seems like Sky Private also takes the safety of its customers seriously. There is a solid anti-scam policy in place and a detailed help guide. You can pay through Bitcoin and other secure payment methods to maintain your anonymity. There are also several ways to contact customer support, including live chat and a Discord server, and customer support is available in several languages.
Summary
The premise of Sky Private is unique enough, but we are simply not convinced Skype is the ideal medium for live webcam shows, especially given it's already 2020. The rates on SkyPrivate are mostly affordable, but a full webcam broadcast can get quite expensive if the model prefers to take her time.
FAQ
What is SkyPrivate?
Sky Private is an adult webcam site that does not broadcast any live shows directly in the browser — instead, it arranges calls between the model and the viewer via Skype. You will need a valid Skype login to access the shows on SkyPrivate.
Is SkyPrivate safe?
SkyPrivate appears to be a generally safe webcam site with adequate customer support and extensive help guides for users. However, the fact that you need to use your Skype login to access the services on the site can certainly be a downside for some users.
How much does SkyPrivate cost?
A single minute of a Sky Private call with a model will cost you from $1 to $12, although most of the models we encountered on the site charge between $1 and $3 per minute of a live Skype session.
Is SkyPrivate a scam?
No, SkyPrivate is not a scam. The site doesn't charge you any money for a membership and only requires you to pay directly to the model if you want to arrange a live show on Skype. Plus, Sky Private has some advanced anti-scam policies in place to protect both models and viewers.
Can I use SkyPrivate for free?
No, SkyPrivate does not allow you to do anything for free other than check out the profiles of the models. If you want to see any model in action, you will need to have enough funds in your account and schedule a Skype call.
Does SkyPrivate have a mobile app?
No, there is no SkyPrivate app available for any platform. If you want to use the service on your mobile device, you can use the mobile browser version of SkyPrivate.com, but make sure you have Skype installed on your smartphone for private shows.
Are there any sites like SkyPrivate?
There are not too many webcam sites broadcasting live shows via Skype, possibly because the messenger is no longer as popular as it used to be, but you can find several adult webcam sites offering Skype sessions with models. Check out our other webcam site reviews on AdultCamLover to find what you are looking for!