Stripcamfun is the website where you "Strip on Cam and Have Some Fun". The term "strip" also means that they strip away the ads and other distracting buttons and banners that webcam models use on Chaturbate. They do not hide the fact that they are a member of the Chaturbate white label family. Because they strip away all that extra stuff, they claim to have a more secure and more pleasurable experience that you wouldn't get on just using Chaturbate.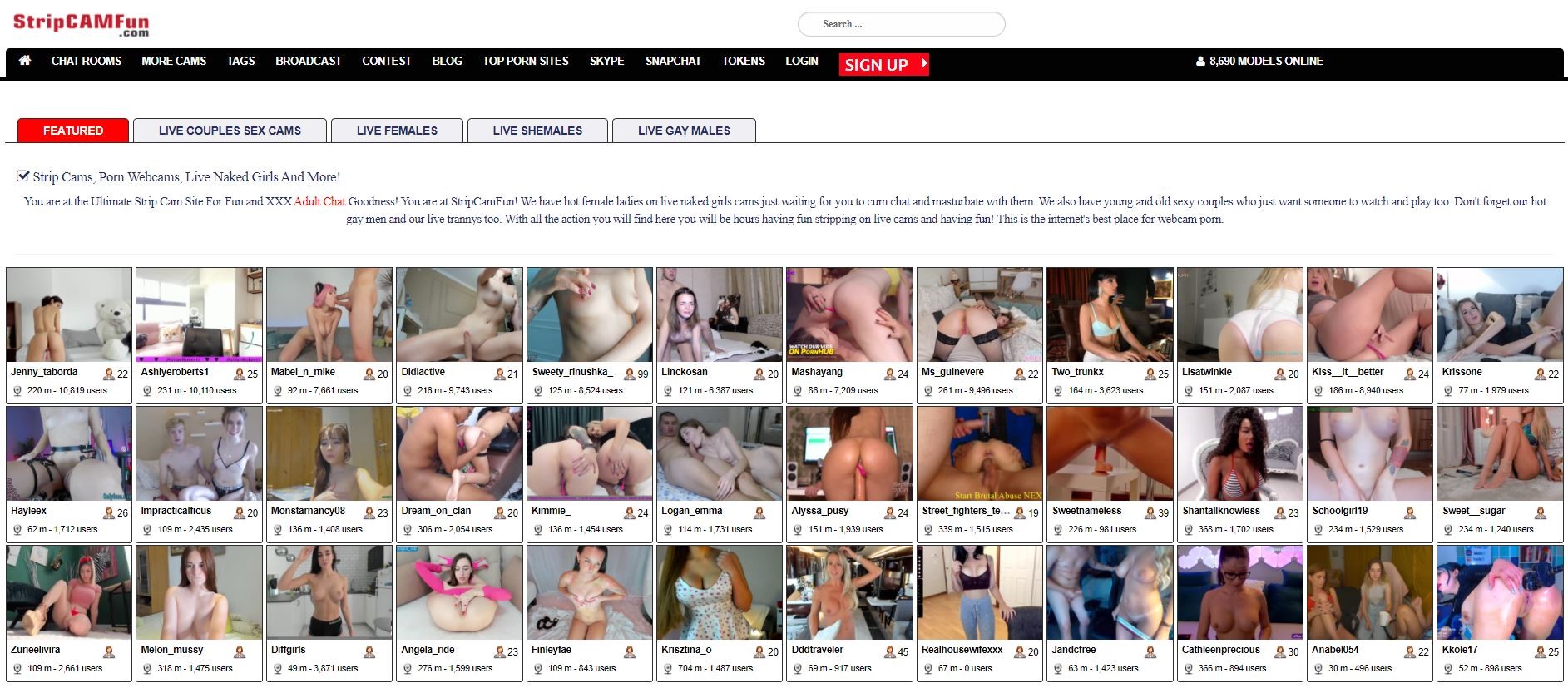 Strip On Cam With Real Naked Girls Live and Enjoy Free Webcam Porn
Stripcamfun was born in late 2014, since it is start it has turned into one of the most sought-after webcam and chat sites around. Not only do they offer webcams, but they also have a blog that keeps up with what is going on in the adult industry and they have Premium Skype and Snapchat too. But stripping on cam is what they are famous for and it is what most people love about them.
Stripcamfun has quickly grown into becoming a powerhouse in the webcamming community. It's rare for a company that is so closely related to Chaturbate to step out on its own. Stripcamfun has away of improving the experience of Chaturbate which is why it is so well loved. It is easier to find niches with Stripcamfun than it is other cam sites too. Not only that but with its blog keeps users informed and entertained.
Pros
1000s of Camgirls and Guys Online All The Time
Free To View Webcam Porn No Registration Needed
It's Free To Join
Strip away Chaturbate's Annoying Ads and Banners everywhere in their "secure" section
Cons
Chaturbate Whitelabel so you are seeing same models
Too many steps involved to sign up
Even though it's free most models will not talk with you without tokens
How It Works
The site's design and functionality are a major part of your experience as a user. How does Stripcamfun rank when it comes to satisfying their users?
Signing up at Stripcamfun
Stripcamfun is free to watch and view all day long. Some webcam sites will limit you to a minute then ask you to sign up but like Chaturbate, you can watch a live cam show for as long as they don't go private.
To sign up for a free account with Stripcamfun.com you just click the sign-up button at the top of their website. To make this part more "secure" they have added an extra page between the signup page and the button. That way it drives away bots and other gadgets that try to steal info. The downfall is that it makes an extra step. Anyhow, once you are on the signup page it's secure and it is really easy to do and only takes 35 seconds or less to sign up. It is best to verify your email too although you don't have too.
Interface
The interface for Stripcamfun really seems wider than most webcam sites. One of the cool things is when you are what they call the "search engine side" you get nothing but the video and nothing distracting you from watching it. It works great on mobile and desktop, when you click on the video though you move over to the secure part where it's not in search engines and you can actually use the chat. Also on their main site they an option to check out their most popular webcams which are ebony, teen, milfs, bbw's, Indian and Asian. Those change according to popularity though.
One of the main things they need to introduce is the option to separate by age and location but besides that you can easily find what you are looking for under their "tags" section. Also, you can adjust the screen size and the chat room size on on desktop and mobile, so it is very customizable so you can get the most out of your experience.
Model profiles
Model profiles on Stripcamfun are simple. You see pics and videos if they have them available. Stats like their real name, age, region and language and that's it. It is not as personable has some profiles are and you can't get to know the model by looking at their chat room but we believe that is a good thing because it forces you to pay attention to the cam show and not all the other stuff.
Variety of Webcam Models
On Stripcamfun you will find thousands of models at any given time available. Out of these thousands of models you can use the "tag" section to break down these models by niches and fetishes so there is plenty of diversity on Stripcamfun. Now if you are on the homepage you will notice it is mostly white girls at the top of the page which happens to be their most popular niche but if you are looking for ebony women or bbw's all you have to do is use the tags and you can find it from there.
Also since they are apart of the Chaturbate family any model you find on Chaturbate is on Stripcamfun the only difference is less ads on Stripcamfun. Also, they do have a section on their main site where you can check out other cam sites like Stripchat and Myfreecams.
Pricing
Stripcamun takes pride in the fact that is a free webcam site but if you really want to enjoy the full benefits of the site you need to get tokens. Buying tokens also helps with keeping spam down too. If a user has to buy tokens in order to chat it makes a paying customer experience much better because he or she don't have to worry about a spammer interrupting their conversation.
With those tokens you can:
Tip broadcasters in public chats
Ask Live Cam Girls For Private and Public Cam Shows
You Can Also Get A Stripcamfun Monthly Membership
Buy photos and videos from pornstars, amateurs and other broadcasters.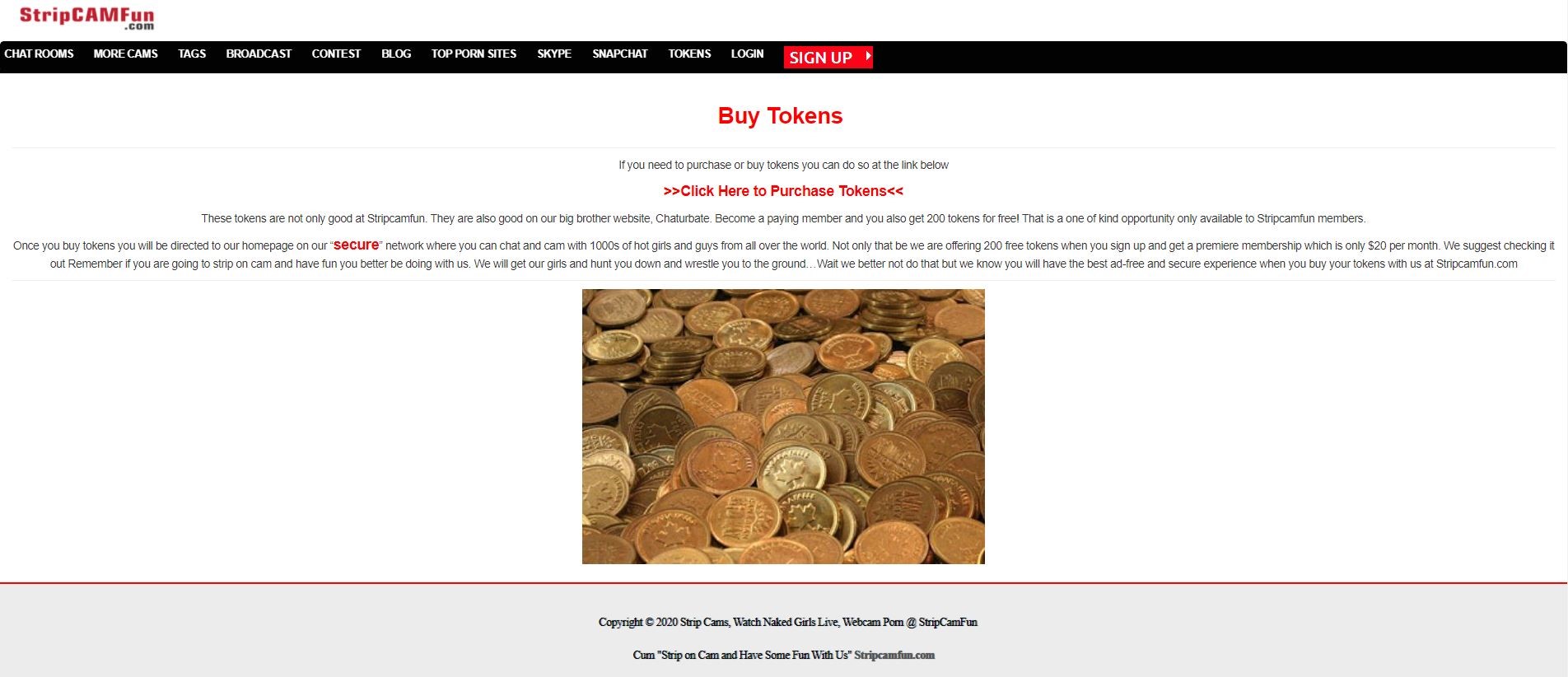 The Tokens that are used on Stripcamfun can be purchased in the range from $10.99 for 100 tokens to $159.99 for 2025 tokens. 2025 might seem like a lot of tokens but it really isn't because once you find a broadcaster to chat and have fun with in private mode they quickly disappear but it's well worth your money:
Here is a few of the options you will see on their secure version for private shows on Stripcamfun.com
6 tokens per minute
12 tokens per minute
18 tokens per minute
30 tokens per minute
60 tokens per minute
90 tokens per minute
Safety
Stripcamfun is one of the safest webcam sites they are. They use two parts to their site, a search engine side that shows what is live and going on at the moment. They also have their "secure" version that you access from the main website. The secure part shows no ads, strips away a lot of popups and banners and search engines do not search the secure section so it makes it much less likely for bots and other ill intended things to get your information.
Summary
Stripcamfun is totally free to watch and enjoy. And there is plenty to enjoy, at any given time you can see 1000's girls, guys, trans and couples online who are masturbating, having sex, playing games and more.
FAQ
What is Stripcamfun?
Stripcamfun is cam site that is apart of the Chaturbate family. They strip away all the ads and other banners on their secure section to give you a more pleasant experience then Chaturbate. Their motto is "Come Strip On Cam and Have Some Fun". You can view Girls Naked Live and in their couple section we like to call it webcam porn because so many people are fucking.
Is Stripcamfun safe?
Stripcamfun prides their self in taking their users safety to heart. Everything they do on their websites is to provide the user the safest experience possible
How much does Stripcamfun cost?
Stripcamfun is totally free to watch. It's also totally free to sign up and register but if you are going to want to chat and go cam2cam with broadcasters you are going to at least have to get the minimum token package which is $10.99
Is Stripcamfun a scam?
No, Stripcamfun is not a scam. It's apart of the Chaturbate White Label Family which is the biggest webcam company in the world.
Can I use Stripcamfun for free?
Stripcamfun is free to use and it's free to register although your membership is very limited, and you will not be able to chat and cam with most broadcaster without first purchasing some tokens.
Is There A Mobile App For Stripcamfun?
Due to Apple and Android regulations there is not an app for them. But there is a cool article on their blog that explains how to turn the main website into app so you can easily get to the site on your mobile device.
Are there any sites like Stripcamfun?
There are a lot of websites that are like Stripcamfun, but Stripcamfun is slightly different from most because it purposely tries to strip way a lot of the ads and banners that you normally see with webcam sites.