BongaCams, or BongaCam, as it's often called in the webcam community, is an adult webcam site that was founded in 2012. Since then, the website has gained recognition for its variety of free live webcam shows, although not all BongaCams reviews have been perfect.
Upon your first visit, BongaCams.com will likely remind you of other free webcam sites we have reviewed before. However, Bonga Cams also has several features that make it stand out in the competitive world of adult webcams, as well as a few significant drawbacks. Find out more from our BongaCams review by AdultCamLover!
✅ Pros
Free access to public live shows
Models are attractive and willing to please
❌ Cons
Set prices for paid shows
Few English-speaking models
Constant pop-up ads
How It Works
Here is what you can expect from your journey on BongaCams.com.
Signing up for BongaCams
When visiting BongaCams for the first time, you will instantly see the registration button, and even if you don't you will repeatedly get a pop-up window urging you to sign up. It's possible to view the shows on BongaCams.com as a guest, but you will not be able to interact with the models and access other features without an account.
Creating an account on Bonga Cams is incredibly easy: all you need to do is specify your username and choose a password. You don't even need to provide your email or verify your account, although if you do, you can get 5 bonus tokens.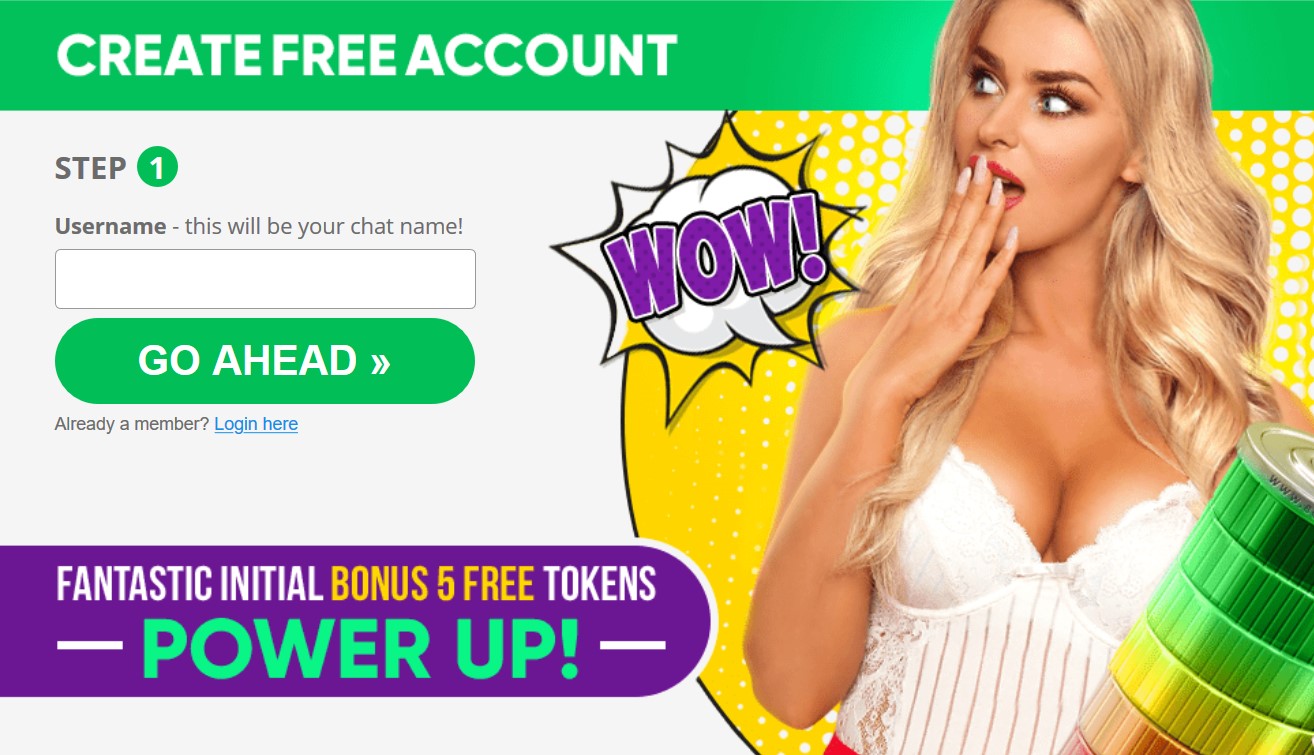 Interface
The interface of BongaCams.com may seem alright at first glance, but after researching and testing the site for a long time for our Bonga Cams review on AdultCamLover.com, we discovered two major problems with it. The first issue is that the interface of the site looks noticeably outdated and disorganized up to the point that you will likely have a hard time navigating it.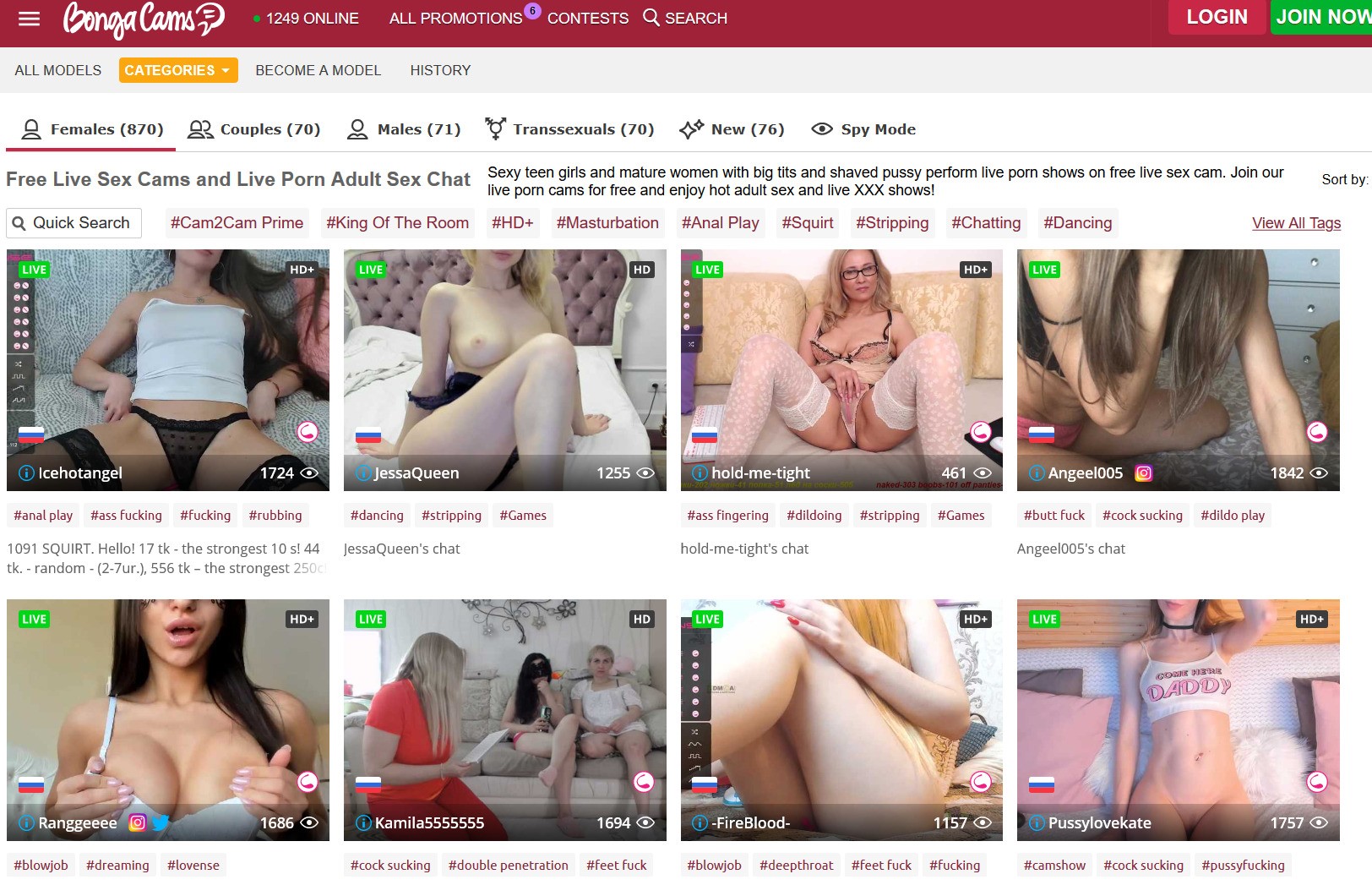 The second problem is the constant stream of annoying pop-up ads. You would think that the pop-ups would go away once you sign up for BongaCams, but in reality, they only begin appearing more frequently, urging you to purchase tokens or advertising a Gold membership and its benefits.
The home page of BongaCams.com displays all shows that are currently live. Using the top menu, you can browse the available categories, which include blonde, brunette, housewife, Latina, and other common porn terms. You can also use the menu below to view only female, male, transsexual, or couple models.
Model profiles
Clicking on any live show will take you directly to the webcam feed. On the left, you will see the video itself. On the right, there is a chat window. There you can see the model interacting with the viewers, the overall number of guests in the chat room, and the available activities with their cost in tokens.

If you scroll further, you will see the model's full profile. The information on the profile includes her stats and achievements on BongaCams, the model's age and location, her turn-ons and turn-offs, as well as a list of things she can do in a public or private chat and how many tokens it is going to cost you.
Audience
For our BongaCams review, we took a particularly detailed look at the range and quality of the models performing on the site. We found that the absolute majority of models are young and attractive women, although, at any given time, you will also find some couples and men performing on Bonga Cams.
It's worth noting that BongaCams is a European webcam site, which possibly explains the fact that most of the models you meet on the website are European — Russian and Eastern European, to be precise. On one hand, Eastern European models are often wilder than their American counterparts, but on the other hand, many of the models on Bonga Cams speak little to no English and sometimes even communicate in Russian in the chat rooms, which may be frustrating to an English-speaking user.
Pricing
BongaCam utilizes the popular webcam site way of working where you can passively watch a lot of shows for free, but need tokens to interact with the models or enter private chats. Tokens on Bonga Cams are sold in packages ranging from 26 tokens for $1.99 to 1480 tokens for $74.99.
It's worth noting that while the price per token seems affordable, you will run out of tokens very quickly if you intend to actively use BongaCam. For example, a private show costs 90 tokens per minute, and suggested tips to models can reach 2000 tokens, which means you will need to regularly top up your tokens to continue using BongaCams.
With every purchase of tokens, you will get a lifetime Gold membership. With a Gold membership, you can access more BongaCam features such as unlimited private messaging, full screen mode, and receiving alerts when your favorite models are online and performing.
Safety
Here at AdultCamLover, we want webcam fans to have an experience that is not only satisfying, but also safe. So is BongaCams a safe webcam site or should you look for safer alternatives?
The good thing about Bonga Cams is that you can be as anonymous as possible: since you don't even have to disclose your email, you can provide absolutely no personal information to the site. BongaCam also has a customer support system that is available via live chat, phone, and email.
At the same time, we looked deeper into the FAQ section of BongaCams and did not find enough information on safety for the website visitors. Unlike other webcam sites that have whole sections dedicated to securely enjoying webcam shows, BongaCams does not have anything like that in place. The site also specifically states that whenever you have a conflict with the model due to unsatisfying performance, the issue is not guaranteed to be resolved in favor of the customer.
Summary
BongaCams attracts you with a free access to live webcam shows, but you won't get far without spending any money on the site. The models on Bonga Cams are prepared to do everything for the satisfaction of the paying visitors, but the language barrier between you and the models can definitely get frustrating.
FAQ
What is BongaCams?
BongaCams is a European adult webcam site. It has been online for over 8 years and is one of the most visited webcam sites on the internet, although its reputation has not been spotless, both among the viewers and the models.
Is BongaCams safe?
BongaCams is a generally safe webcam site, but it is more likely to be a result of civilized behavior of visitors and models. We have not seen any major effort from BongaCams to ensure the safety of its members, and there isn't even a safety section on the website.
How much does BongaCams cost?
Unless you only want to stick with free public shows, which are available for free, you will need to pay for a complete BongaCams.com experience in tokens. Tokens cost from $0.04 to $0.095, depending on the package, a group chat costs 30 tokens per minute, while a fully private chat costs 90 tokens per minute.
Is BongaCams a scam?
No, BongaCams is not a scam. In most cases with BongaCams, you get exactly what you pay for. However, we found that the prices at BongaCams.com are slightly higher than the market average, and if the model underperforms in a private show, the site does not promise to resolve the issue in your favor.
Can I use BongaCams for free?
Yes, if you want to only take a look around BongaCams and do not have any special demands, you can access a number of shows for free. However, without spending any tokens, you will not be able to freely communicate with the model, tip the performers, or access private chats.
Does BongaCams have a mobile app?
No, you will probably be disappointed to know that BongaCams does not have a mobile app for any platform. The only way you can use the service on your smartphone or tablet is by opening BongaCams.com in your mobile browser.
Are there any sites like BongaCams?
Bonga Cams is definitely not a unique webcam site and you can find dozens of other adult webcam services where you can watch the shows for free. Check out our honest reviews of other webcam sites on Adult Cam Lover to find your new favorite one!