Camonster is an adult cam site whose history dates back to almost a decade ago. Ever since the site started, there have been numerous Camonster reviews pointing out the similarities between this service and other webcam sites, particularly Streamate, and it's easy to see why.
Camonster looks and feels like a rather generic webcam site with an average range of models and only the most basic features, but it's also very clear that it's just a copy of Streamate with an identical design and selection of performers. Nevertheless, we at AdultCamLover decided to do a complete Camonster review to tell you the truth about this service.
✅ Pros
Modern and convenient design
Private messaging with the models
❌ Cons
Suspicious registration process
Too similar to other webcam sites
No mobile apps
Private shows can get very expensive
How It Works
If you have ever been at a webcam site, you probably already know what to expect from Camonster.com. Here is what a typical journey through Camonster will look like if you decide to join the site.
Signing up at Camonster
If it's your first time on Camonster.com, you can spend some time exploring the site, since Camonster does not require you to immediately sign up. You can take a look at the models who are currently performing on the website and browse the categories, but you will need an account to participate in chats or enjoy private shows.
Creating an account on Camonster.com seems easy at first: you will be asked to specify your email, password, and username. However, then you will be asked to enter your credit card details to obtain a Camonster membership. The site promises you won't be charged for a membership, but it also doesn't allow you to skip this step while signing up.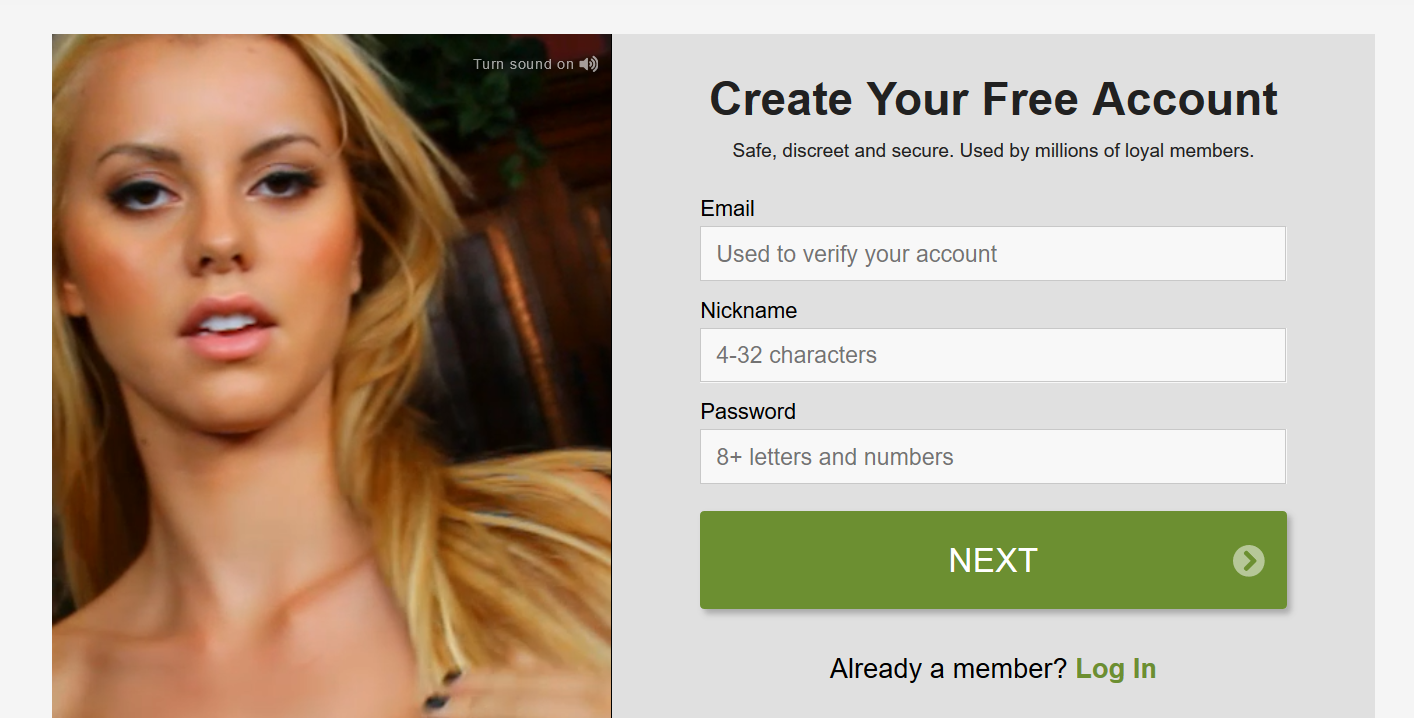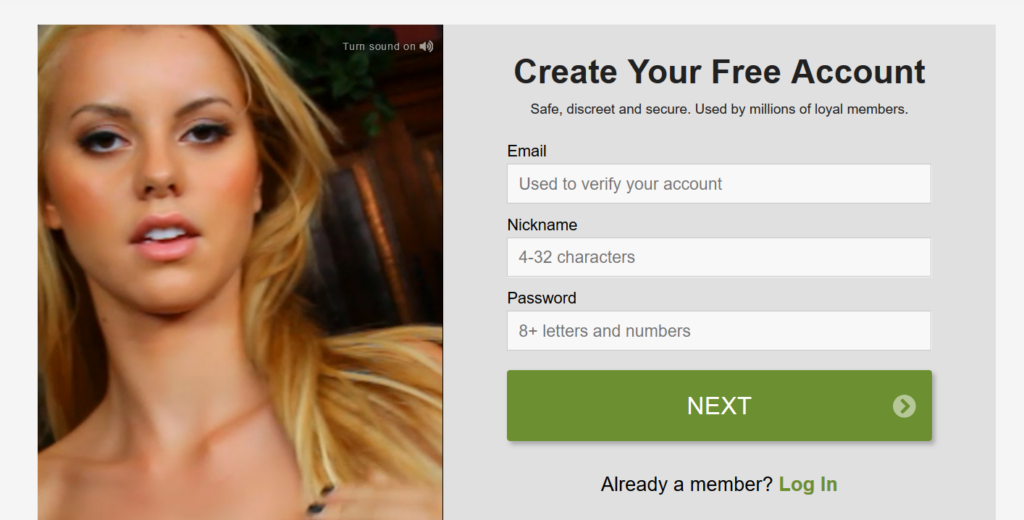 Interface
The design and interface of Camonster.com look modern, but they are also extremely generic. On the home page of the site, you will see a collage with the pictures of models who are performing right now. The main menu of the site is located on the left, where you can browse different categories of performers and visit various tags.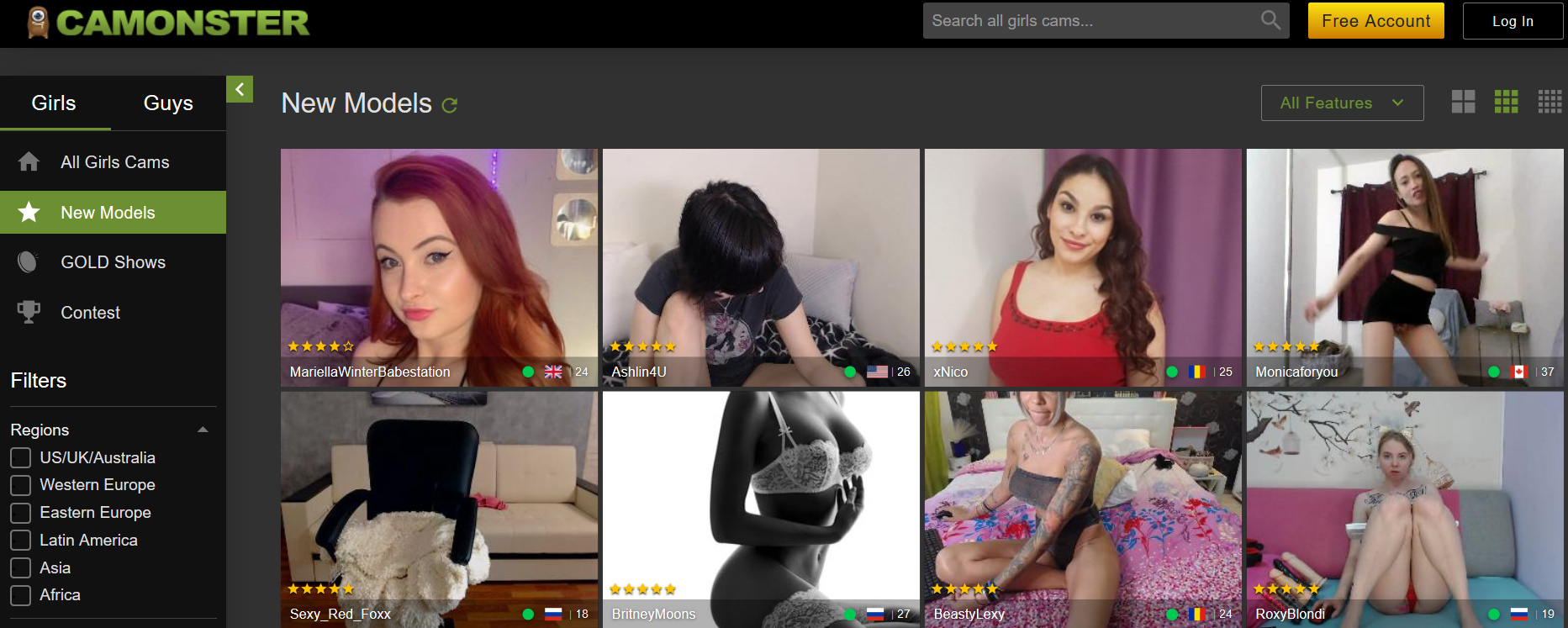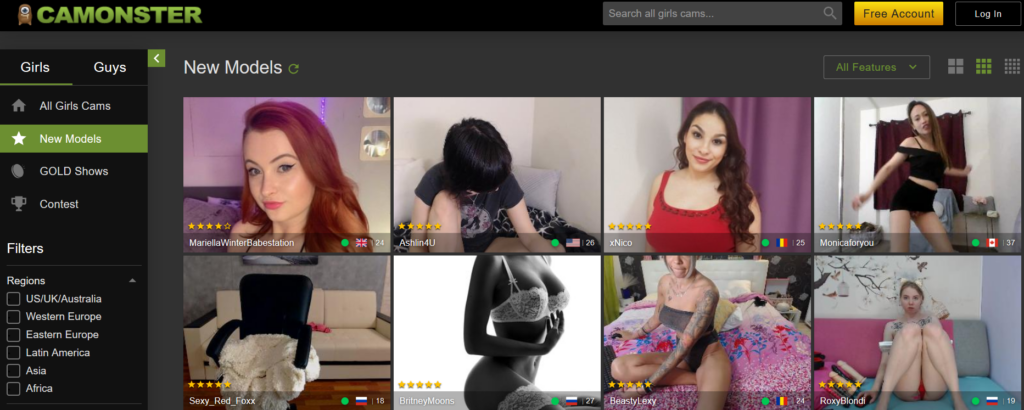 Model profiles
Some shows on Camonster have animated previews that you can see by hovering your mouse over the model's profile pictures. However, with most shows, you will need to open the broadcast to see the model in action.
The broadcast page is designed similarly to many other webcam sites. The webcam feed can be found on the left, and the chat is on the right. The model's profile is located on the bottom of the page and provides more information about the model's physical parameters, language, sexual preferences, and things she can and cannot do in a live broadcast. While watching a free public show, you can invite the performer for a paid private show or send her a tip if you are enjoying the broadcast.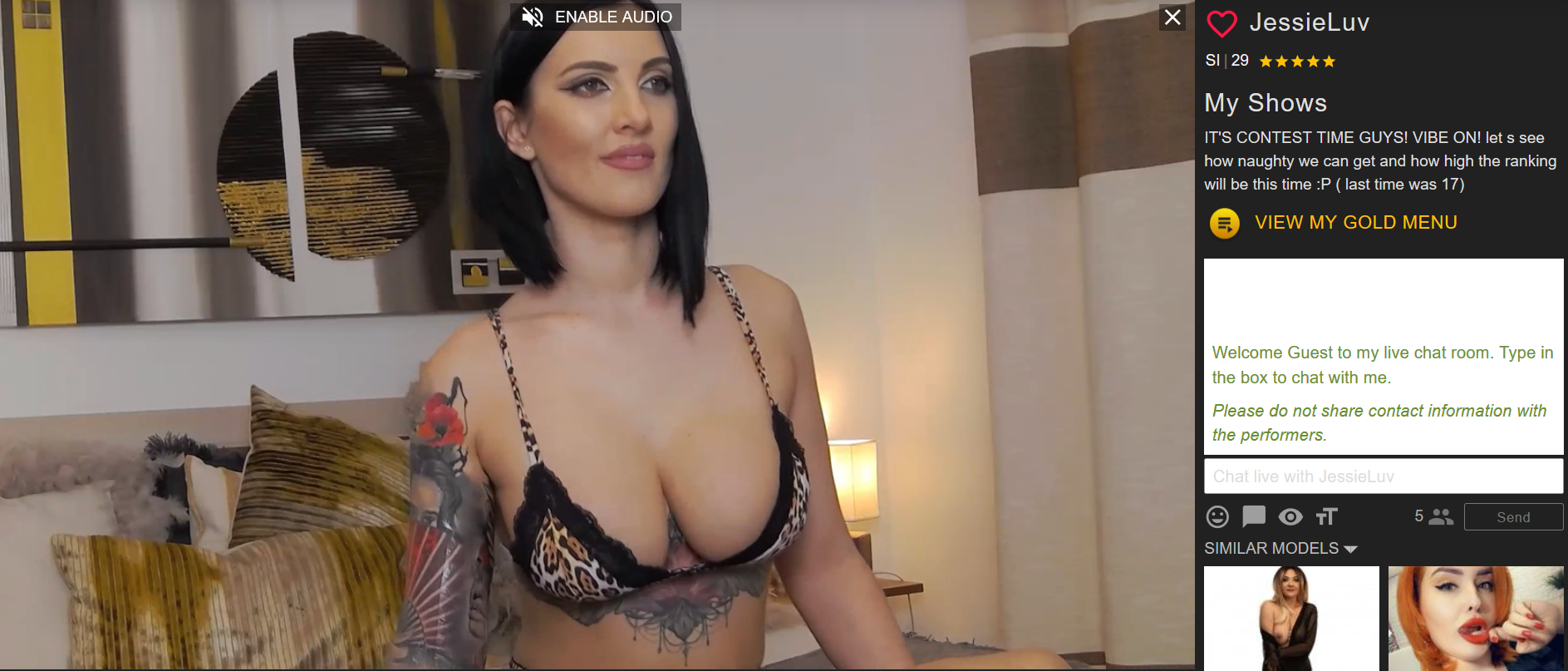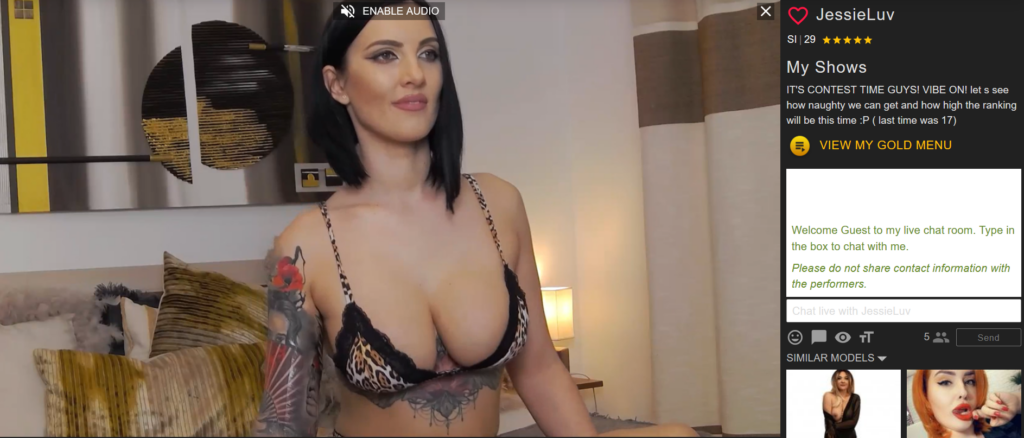 Audience
Considering that Camonster.com is a carbon copy of Streamate and possibly several other webcam sites, you probably won't be surprised by the fact that Camonster does not have any models of its own and simply broadcasts the performances from its parent webcam site. That is why you can see a lot of familiar faces on Camonster.com, especially if you are an avid webcam user.
Moreover, while working on our Camonster review, we discovered that the selection of models on the site is very limited. There are very few male models and only several couples and trans performers. All other models on the site are women from Europe and Latin America, with a small percentage of performers being from the US and the UK.
Pricing
Camonster claims the site membership is completely free, but everything else there comes with a price. At Camonster, there are three main ways to spend money:
Private shows, where you are one on one with the model;
Gold shows, where you and several other viewers contribute to the performance;
Tipping the model if you enjoy a public or private performance.
When browsing Camonster.com for our review on AdultCamLover.com, we felt like the website was purposefully secretive about the prices on the site. Instead of using credits or tokens like on most other cam sites, you can pay for private and Gold shows directly in US dollars. All models have their own prices per minute for private shows that range from less than $2 to over $4. You can also buy the site's currency called Gold that you can use to send tips to the performers you like.
Safety
The thing we liked about Camonster.com is the availability of several ways to contact customer support: you can do it via live chat, email, phone, and a form on the site. However, that's probably the only safety feature that is really present on Camonster.
From the moment you try to create your account, Camonster raises suspicions by making you provide your bank account details for a seemingly free membership. Then, when you realize Camonster.com is completely identical to at least one other webcam site, you can no longer consider it a safe enough cam website for you to join.
Summary
Camonster may first attract you with a clean and modern interface and a decent number of shows you can watch for free, but then you begin to realize that this site is not that original. Plus, the fact that you need to enter your credit card details when simply creating your account does not add to Camonster's reliability.
FAQ
What is Camonster?
Camonster is an adult webcam site that has been around for more than 10 years. However, unlike most other cam sites we have reviewed on Adult Cam Lover before, Camonster does not have any model of its own and simply broadcasts live sex shows from another site.
Is Camonster safe?
There haven't been a lot of Camonster reviews pointing out its problems with safety, but it still doesn't mean you can fully trust this site. Camonster.com displays a lot of suspicious behavior and if you are looking for a 100% safe webcam service, you should search for other options.
How much does Camonster cost?
Most performers charge between $1.5 and $4 per minute for their live shows. The cost per minute depends on the model's experience, popularity, and the range of activities she offers in her private shows. You can slightly bring down the cost by going for a Gold show and pitching in with several other viewers.
Is Camonster a scam?
Normally, we wouldn't call any webcam site an outright scam, but Camonster.com is a different story. If you take into account the fact that Camonster is an identical copy of Streamate, a popular adult cam site, but poses as a completely unique and original webcam service, you can easily answer this question for yourself.
Can I use Camonster for free?
When you sign up for Camonster.com, you enter your credit card details, and even though the site promises you won't be charged for your membership, you cannot be fully sure. However, there are some public shows on Camonster that you can watch for free, but be aware that models don't pay much attention to non-paying users.
Does Camonster have a mobile app?
No, Camonster is not a standalone webcam site, therefore it does not have its own mobile apps. You can view the mobile version of Camonster.com in your mobile browser, but you shouldn't expect it to have the same functionality and convenient interface as the desktop version.
Are there any sites like Camonster?
Considering the Camonster.com itself is an exact copy of a popular cam website, you can easily guess that there are plenty of services you can check out if you are not happy with everything Camonster has to offer. Visit our other reviews on AdultCamLover and find a webcam site that fully meets your expectations!