Camversity is an adult webcam site that was launched in 2015 and has only been around for five years. In a stiff competition with older and more popular webcam services, Camversity has not emerged a winner yet — there are considerably fewer models and viewers on the site than on other webcam sites.
Here at AdultCamLover, we are determined to only bring you the most high-quality, trustworthy, and fairly priced webcam services. That is why we decided to take an in-depth look at the features, prices, and level of service offered by Camversity.com with our Camversity review.
✅ Pros
Several live shows available at any time of the day
You can watch many shows for free
❌ Cons
Models are not usually responding to free users
No mobile apps
Lack of diversity in model database
Private shows are often overpriced
How It Works
The site's interface, range of models, and ease of registration play a huge role in your satisfaction from the service. This is what your journey through this service will look like.
Signing up at Camversity
Visiting the home page of Camversity.com for the first time takes you directly to the list of all the shows that are currently available to watch, and while you can go directly to any of the broadcasts and begin watching it, you will want to sign up for the site first: that way, you will be able to participate in the chat and access some other features.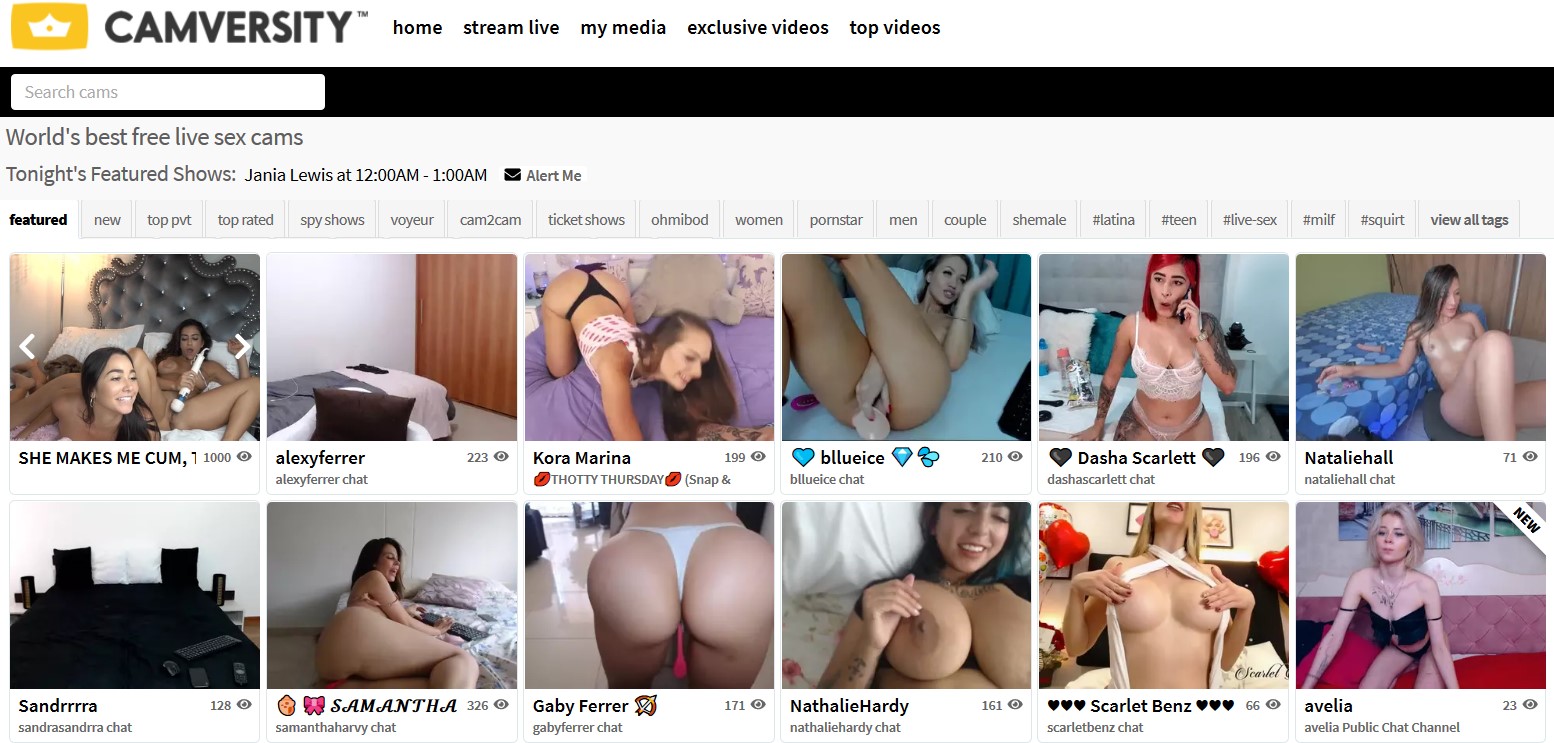 Creating an account on Camversity won't take you long: all you need to do is specify your email address and password, and choose your username that will be displayed in the chats. Camversity.com does not require you to confirm your registration via email, so you can go and explore the site right away.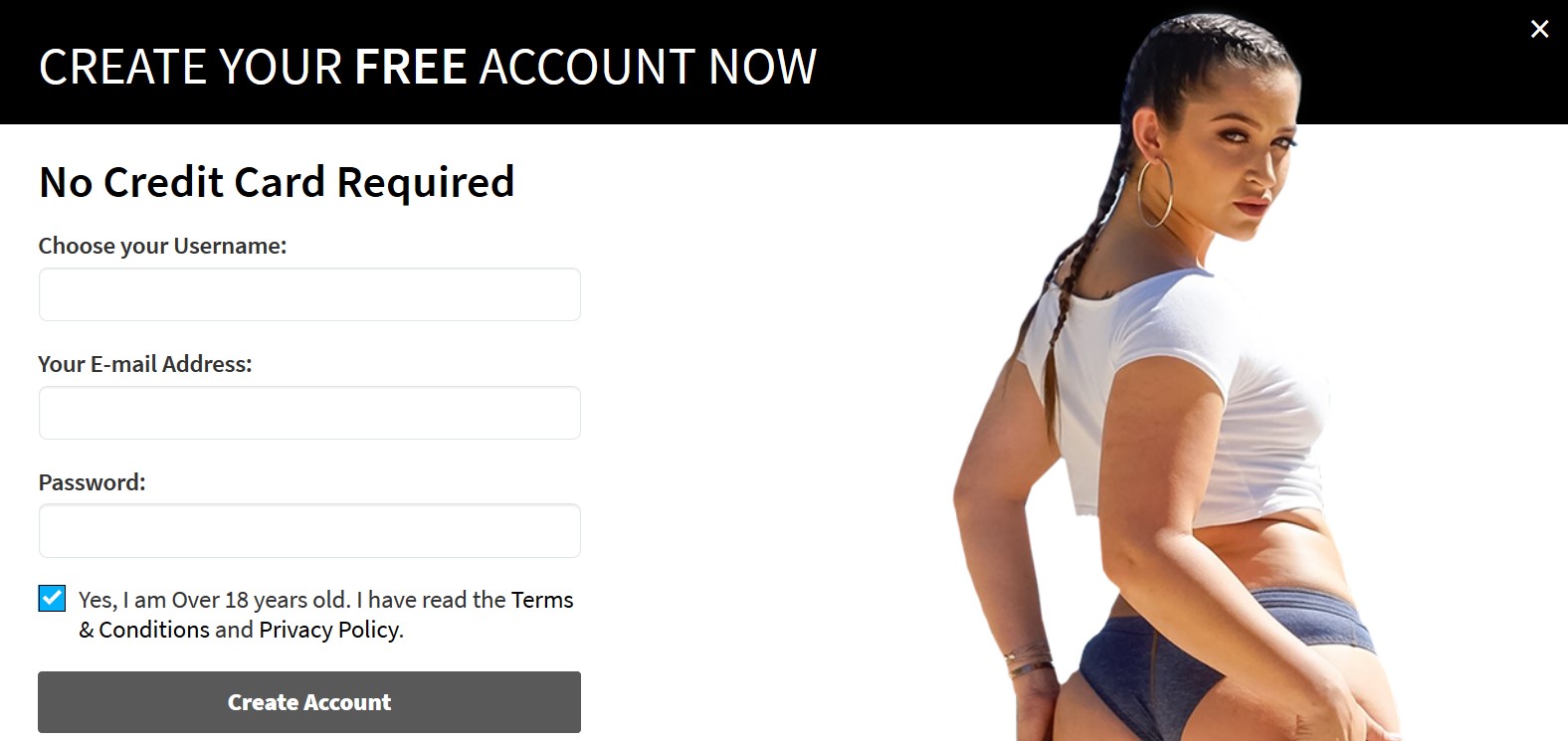 Interface
For a webcam site that was launched only in 2015, Camversity has a surprisingly dated and unimpressive interface. On the home page of Camversity.com, you can see which live shows are currently available. You can tailor the selection by using tags, which include "new", "top", "spy shows", and "featured", or use the Settings button to switch between female, male, couple, and trans performers.
The main of this website is also not very eye-catching. Using the top menu near the website logo, you can take a look at exclusive videos, access your media purchases, or browse top photos and videos from the site's models. Keep in mind that most of the media is only available for a certain number of tokens.
Model profiles
When you click on the preview of any webcam show, where you will find the broadcast itself and the chat, where viewers can interact with the model and make specific requests to the performer. Most public shows also have a goal in tips that all viewers are welcome to take part in.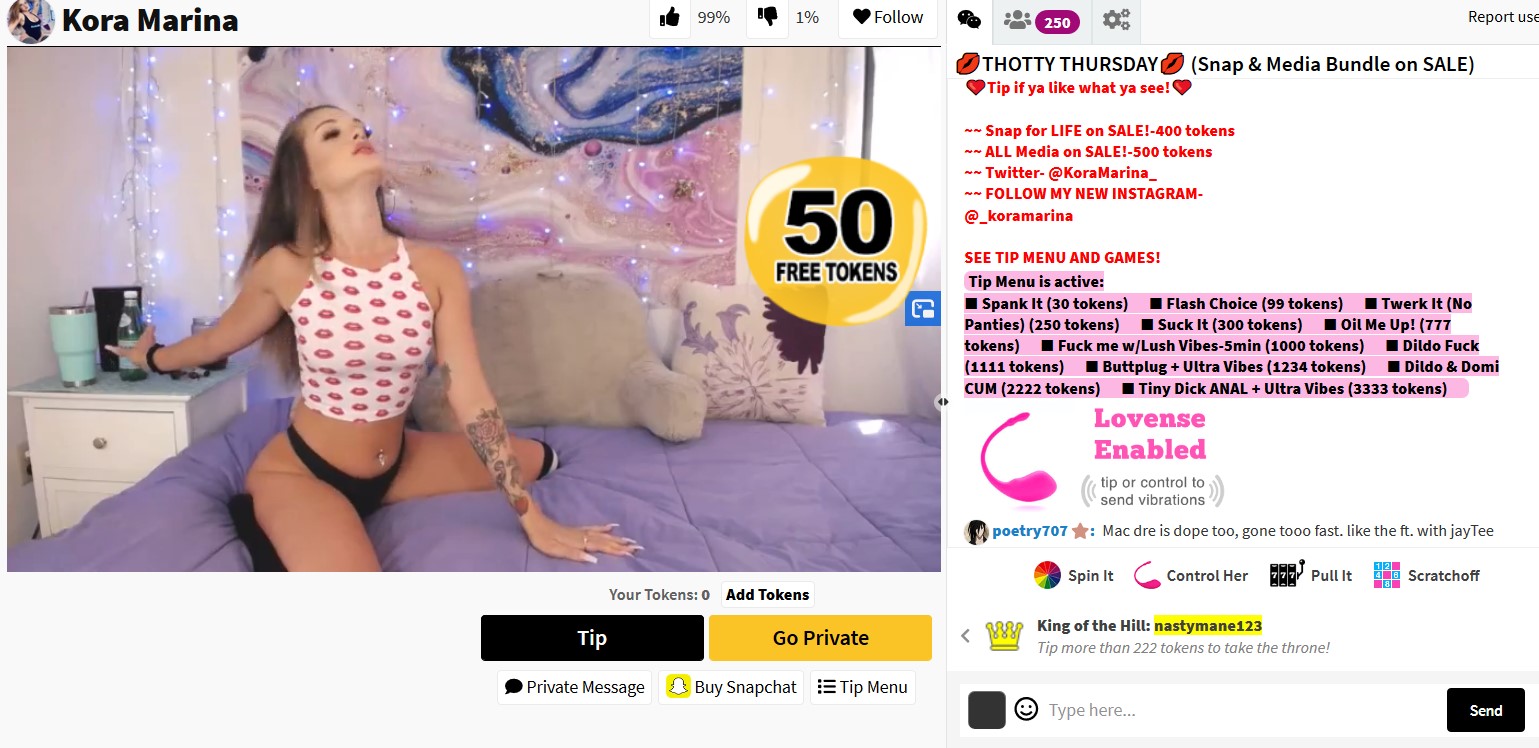 In the lower part of the page, you will find the model's full profile along with her collection of previously recorded videos, which are only available for a payment in the form of tokens. The profiles at Camversity are not very detailed, and many models make them even less informative by giving funny answers instead of genuine ones. Using a model's profile, you can follow her, subscribe to her appearances online in the future, send a private message, or buy her Snapchat. Every model on Camversity also has a specific list of available actions and tips required for her to do it.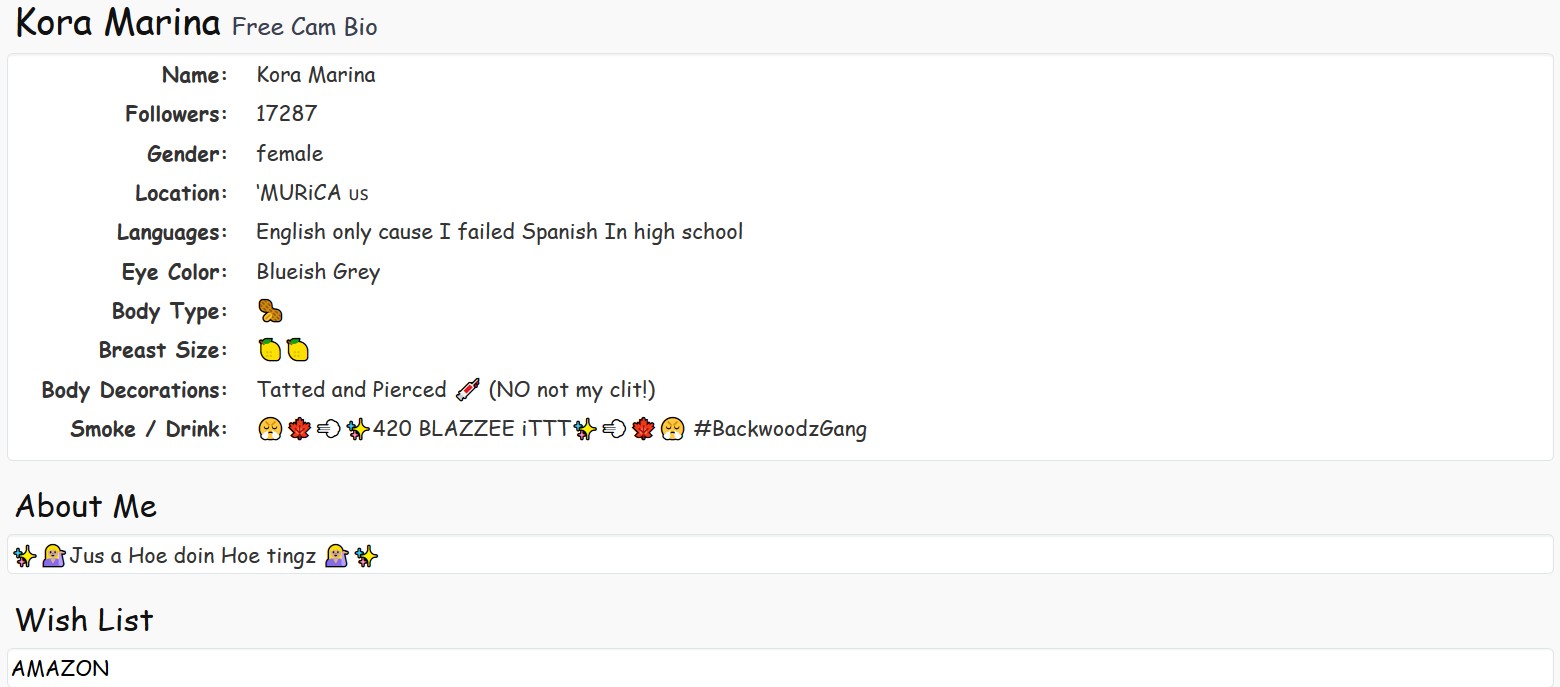 Audience
The audience of Camversity is not particularly diverse: there are some men and couples performing on the site, but their number is minimal compared to the number of female performers on Camversity.com. And even when it comes to female models, you may see some familiar faces while browsing Camversity — this is due to the fact that some models combine working there with performing on other webcam sites.
There are a few US and Western European models, but most of the performers here are from Eastern Europe and Latin America. The only way to discover new models is to use the list of tags on top of the show previews, where you will find tags like Latina, fetish, curvy, and so on.
Pricing
Camversity.com proudly announced that creating an account on the site is free, but that is only one of the free things you can do there. For everything else, you will need to pay. Payments are done in the form of tokens. Tokens can be spent on tipping the performer, inviting the model for a private show, and viewing saved videos from previous performances. There are several token packages you can buy that range from $5.99 for 50 tokens to $49.99 for 550 tokens.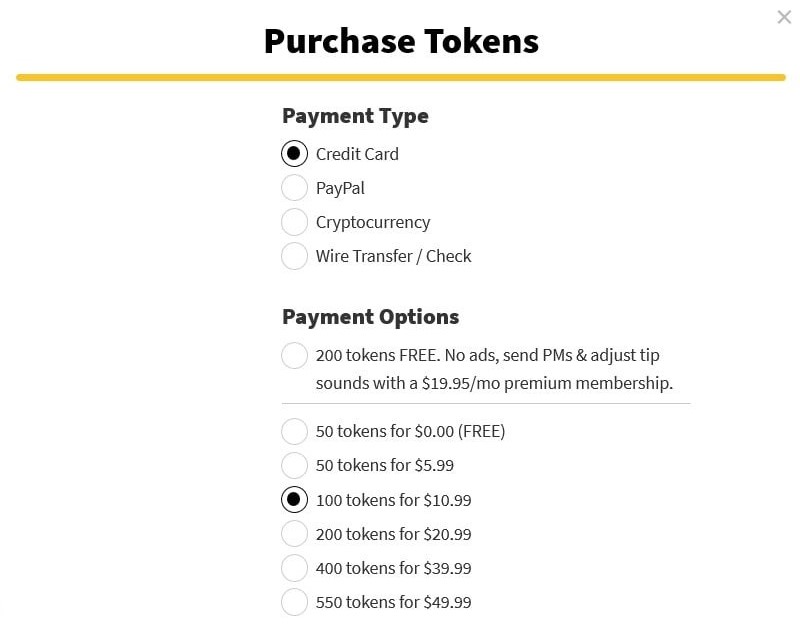 Another way you can spend money on Camversity is through a Premium membership. For $19.95 per month, you get the following benefits:
Ad-free interface
Change the sound of tips
Privately messaging the models
Stealth mode on the site
Bonus tokens
One of the features that separate this service from other webcam sites is that the service uses standard rates for all models. At Camversity.com, all model shows are priced the same:
Private show – 60 tokens per minute
True Private, where no one else can enter the room – 80 tokens per minute
Spy on other people's private shows – 20 tokens per minute
Group shows with a minimum of 3 viewers – 10 tokens per minute from each viewer
Safety
For our reviews on AdultCamLover.com, we always look at the safety feature of the site we are currently researching. There have not been any significant problems with safety both in our time on the site and according to other people's experiences. There are, however, occasional complaints from viewers who did not get what they paid for in a private show.
We also did not like the fact that there is no real customer support on Camversity. For all payment issues, you can contact the company that processed your payment, and while there is a way to reach out to the Camversity.com customer support via email, they will only answer technical questions, not issues regarding your experience on the site.
Summary
Camversity does not have enough advantages to turn anyone into a regular user. The design of the site, its functionality, and selection of models are not at all impressive compared to other webcam sites. Plus, Camversity.com offers limited customer support while charging a lot for tokens or membership, which is why we wouldn't recommend it to the readers AdultCamLover.
FAQ
What is Camversity?
Camversity is an adult webcam site that broadcasts live sex shows by models who are performing from around the world. You can also view shows that have been previously recorded, but Camversity.com doesn't offer any other content.
Is Camversity safe?
We did not find any major security problems with Camversity, which is why we tend to consider it a generally safe webcam site. However, we would like to see Camversity offer more ways to contact customer support without limiting the scope of members' requests.
How much does Camversity cost?
At Camversity, the main way to spend money is to pay for private shows. Private chat costs 80 credits per minute, and with 100 credits costing $10.99, one minute of a private show will cost you over $8, which is higher than what most webcam sites charge their viewers.
Is Camversity a scam?
In general, Camversity is not a scam — the models performing on the site are genuine and are there to make money. The money you pay goes to the model, with the exception of membership costs, but some members report scams performed by the performers themselves.
Can I use Camversity for free?
Yes, if you don't want to spend money on Camversity and don't have any special requests for the model, you can view public shows on Camversity.com for free. However, you should keep in mind that most models save their best performances for private shows and will abruptly leave the public broadcast any time they are invited for a private performance.
Does Camversity have a mobile app?
No, there are no Camversity mobile apps available for any mobile platform. You can open Camversity.com in your mobile browser, but you may end up disappointed with the design and functionality of the mobile version.
Are there any sites like Camversity?
After all the time we have spent on Camversity.com, we concluded that there are many sites like Camversity and the service looks very similar to many other popular adult webcam sites. Check out our other reviews on Adult Cam Lover to find better and more affordable alternatives.