Nude Live, an adult webcam site, was launched in 2014, which makes it one of the newest webcam services in the industry. NudeLive was launched with a promise of a revamped webcam experience and the site's marketing materials point out that it's the most innovative and satisfying webcam site one can find today.
At the same time, nearly every NudeLive review mentions the similarities between this site and another popular adult webcam destination — Chaturbate. The similarities are not denied by NudeLive, who admit to broadcasting Chaturbate models but using their own one-of-a-kind website functionality. Are the site's features powerful enough to convince you to join NudeLive? We at AdultCamLover reviewed the site to answer this question for you!
✅ Pros
Decent variety of models most of the time
Ability to watch public shows for free
❌ Cons
Private shows can get too expensive
The same models as on Chaturbate
Subpar quality of video in many shows
Models mostly interact with paying users only
How It Works
The site's design and functionality are a major part of your experience as a user. So what does the NudeLive cam site have in store for its visitors?
Signing up at NudeLive
You can take a pretty good look at the Nude Live cams even without signing up for the site — as a guest, you will be able to visit any free public broadcast, browse the categories, and find out more about the site itself. However, as a guest, you won't be able to interact with the models or access other features, so if you intend to stick around on NudeLive, it makes sense to create your personal account.
Signing up for NudeLive.com does not take long: all you need to do is enter your birthdate, choose your username and password, and specify your gender. Email address is not mandatory for registering at Nude Live, and even if you do enter your email, you won't need to confirm your registration and will be able to move on directly to browsing the Nude Live cam variety.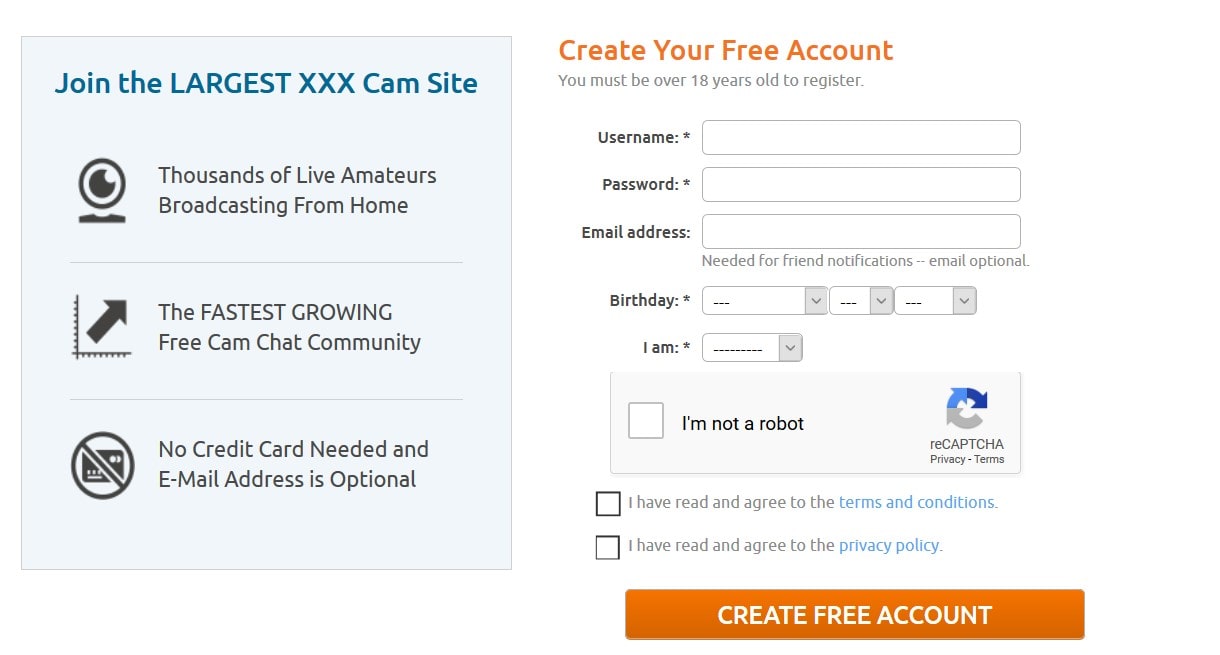 Interface
NudeLive.com has a standard webcam site interface, where the main menu is located on top of the screen. There you will find a drop down menu with categories, can try your luck with a random webcam show, find out more about the site from its FAQ section, or add tokens to your account.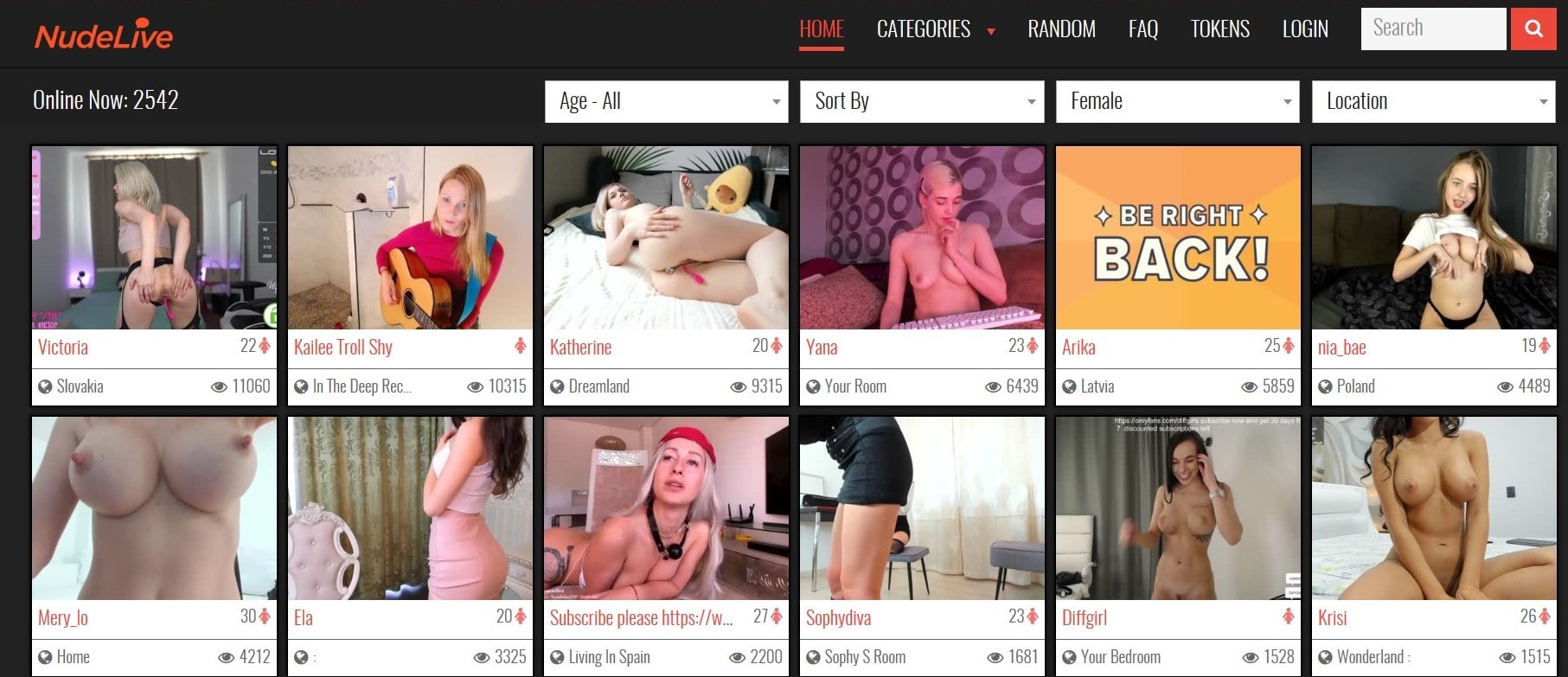 Whenever you are viewing all webcams NudeLive has to offer, you can also narrow down your selection using the filters on top, which include age, gender, and location. You can sort the Nude Live cam shows by newest, oldest, age, and number of viewers.
Model profiles
NudeLive does not offer previews of its shows on the home page, so when you want to get a taste of the Nude Live girls, you need to go directly to their webcam feed. By default, webcam shows on the site launch in full screen mode, but the quality of most shows leaves a lot to be desired and they are better to be viewed in standard mode.

On the right from the broadcast, there is a chat, where the viewers can interact with the model and make specific requests, while the models advertise their tip menu and the things they can do for a certain number of tokens. On the left side of the webcam feed, you will find the controls, where you can follow the model, invite her for a private show, or check out her profile, where you can learn more about who the model is and what she likes.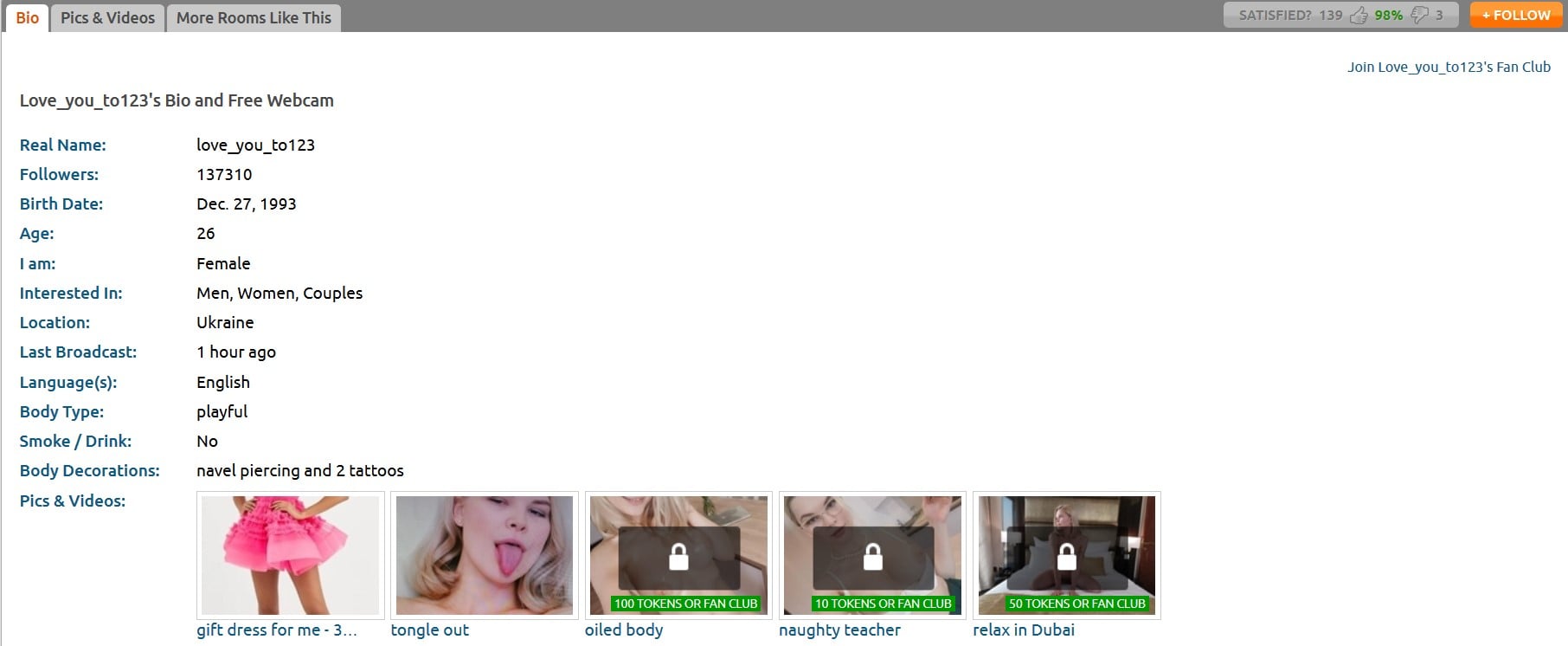 Audience
While preparing for our NudeLive review on AdultCamLover.com, we visited every part of the site and found out that Nude Live claims to currently have 100,000 models, and over 80% of them are female, which is already not great for diversity. And even out of those 80%, most models are white, thin, and young, so if your tastes are more exotic than that, you may have a hard time finding what you are looking for on NudeLive.
We have already mentioned the fact that every single one of the Nude Live girls is actually a Chaturbate model, so if you are familiar with this site and its models, you may see some familiar faces on NudeLive.com. That is why there isn't much sense in using NudeLive if you are already a regular on Chaturbate.
Pricing
Even though Nude Live calls itself a free webcam site, there are at least four ways to spend money there:
Tip the performers in public chats
Invite Nude Live girls for private or group chats
Pay for a NudeLive membership
Buy photos and videos from models
With the exception of a Premium membership, all payments on NudeLive are done in tokens. Premium membership costs $19.95 per month and its two biggest benefits include sending private messages to models and removing the ads from the interface.
Tokens on Nude Live can be bought in packages ranging from $10.99 for 100 tokens to $159.99 for 2025 tokens. The biggest token packages seem huge, but if you are a generous tipper or like to watch a lot of private shows, you will run out of tokens sooner than later. There are several price categories of private Nude Live chat rooms:
6 tokens per minute
12 tokens per minute
18 tokens per minute
30 tokens per minute
60 tokens per minute
90 tokens per minute

Safety
NudeLive appears to be a generally safe webcam, but not without its issues. To protect your privacy, you should try to share as little of your personal data as possible, including your real name and your email address. However, when you are paying for tokens, you still need to include some of your most sensitive information, but so far, there have not been any reports of Nude Live misusing customer data.
Summary
Nude Live claims to have unique functionality and groundbreaking features, but during our time on NudeLive.com, we did not discover anything that caught our attention. The selection of models on NudeLive is adequate, but since those are actually Chaturbate models, there is simply no reason to waste your time on Nude Live when there are plenty of other webcam sites you can check out instead.
FAQ
What is NudeLive?
Nude Live is an adult webcam that broadcasts live sex shows 24/7. NudeLive.com has been around for more than 5 years and is closely connected to Chaturbate, although Nude Live claims that all the technology and user interface are developed by the site itself and Chaturbate is only responsible for the models.
Is NudeLive safe?
NudeLive is a generally safe webcam site. The site allows you to remain as anonymous as you want, and we liked the fact that when you pay for tokens, the purchase is recorded on your bank records under a different name. However, we would like Nude Live to introduce more ways to contact customer support instead of only the form on the website.
How much does NudeLive cost?
Nude Live is technically a free webcam site, but your experience as a free user will be limited. The cheapest token package costs $10.99 for 100 tokens, and private shows cost from 6 to 90 tokens per minute, which means you need to become quite a heavy spender if you want to get the most out of NudeLive.
Is NudeLive a scam?
No, NudeLive.com does not appear to be a scam, although the fact that all of its models are shared with Chaturbate does not add to the site's trustworthiness. Plus, we have encountered more than one NudeLive review where the user was scammed by a model, and while we have no way of verifying it, it's definitely something to consider.
Can I use NudeLive for free?
You can create an account on Nude Live and watch public shows on the site for free, but you will not be able to enjoy any activity on NudeLive and will be forced to remain a passive viewer instead of an active participant.
Does NudeLive have a mobile app?
We were disappointed to find out that NudeLive does not have a mobile app for any platform. There is a way to access Nude Live cams through your mobile browser, but your experience will be limited and possibly not as stable as in the desktop version.
Are there any sites like NudeLive?
For sure! Nude Live is not the world's most unique webcam site despite what the site itself says, so we can name dozens of adult webcam services similar to NudeLive. Check out our other reviews on Adult Cam Lover to find a webcam site to try next!