XloveCam is not the best-known name in the adult webcam site even though the service has been around since the late 1990s. The service is based in the Netherlands and has even won some awards as the top European webcam site, although it is not nearly as popular as some of the leaders of the adult cam world.
XloveCams is often getting positive reviews both from the models and the viewers, but it also feels like a secondary player compared to many other webcam services we reviewed at AdultCamLover. So is Xlove Cams worth checking out or will this site simply be a waste of your time? Check out our XloveCams review to find out!
✅ Pros
Free users can access chat
Extensive search and filters
❌ Cons
No mobile apps
Below average number of models
Cluttered interface
Not all models have HD cameras
How It Works
In a way, Xlove Cams resembles many other webcam sites you have probably seen before, but it also has a few features that can make your experience different. Here is what you can expect from your time on XloveCam.
Signing up for XloveCams
As a guest, you can browse the XloveCams.com performers and even enter a public chat room, but your access will be suspended after 1 minute of the live broadcast. To continue watching live performances, view pre-recorded videos, and closely interact with the models, you will need to create an account on the site.
Signing up for Xlove Cams will only take you a couple of minutes: the site asks you to specify your username, choose your password, and provide your email. After confirming your registration via email, you can begin using XloveCams.com as a member.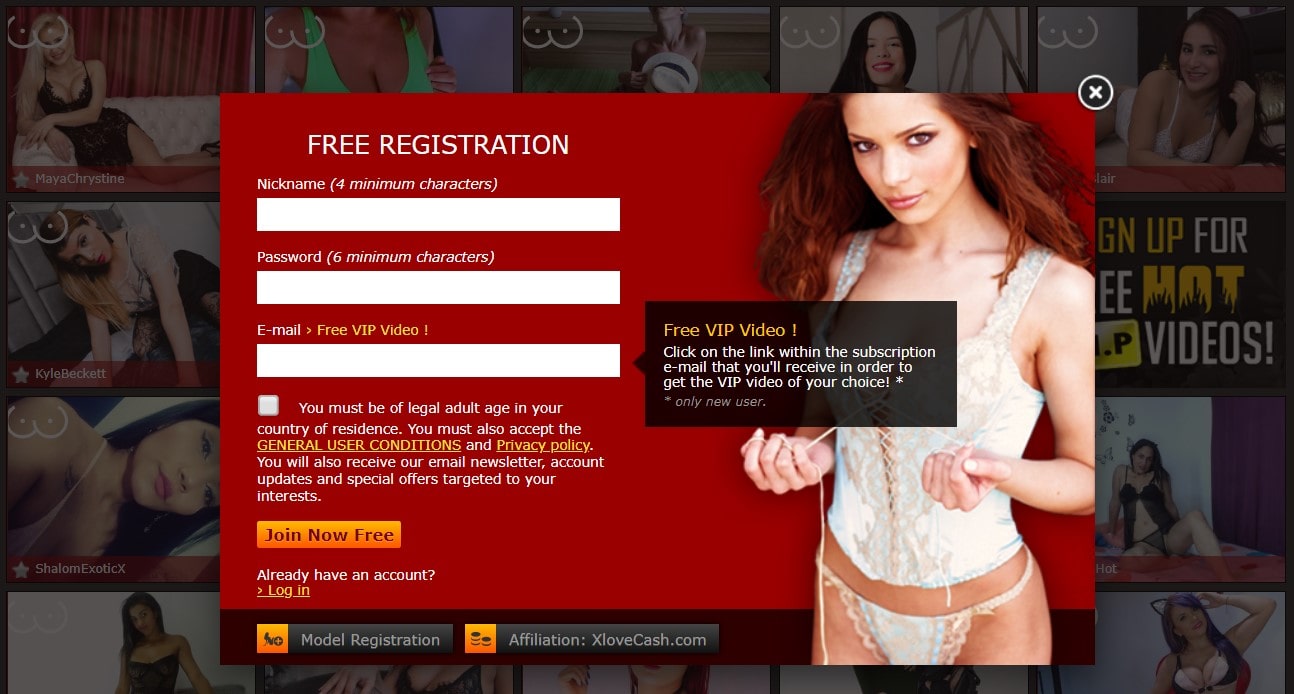 Interface
There are two menus on XloveCams.com. The first one is located on the top of the page and contains links to live webcams, pre-recorded videos, your messages and favorite models, credits, and your account, where you can make changes or log out of the site.
However, the main site menu is located in the left part of the page. There you will find XloveCam's possibly most attractive feature — the different filters and categories. You can use the search to look for the desired keywords, review the models whose shows you visited before, or browse live cams by the availability of sex toys and other features for an enhanced webcam experience.

Model profiles
When you see the list of all live shows on XloveCam.com, you can hover your mouse over any of them to get a glimpse of the model in action. However, you will need to enter the chat room if you want to see more or communicate with the model. The chat room on XloveCams is designed similarly to many other webcam sites: you will find the broadcast itself on the left and the chat on the right.
On top of the page, you will find more information about the mode, including her profile, pictures and videos, and her schedule on the site that will allow you to be there on time for her next show. Instead of tips commonly used on webcam sites, XloveCams has bonuses and virtual gifts. If the model has an active sex toy, you can control its vibrations remotely. Most of those features are available only on a paid basis.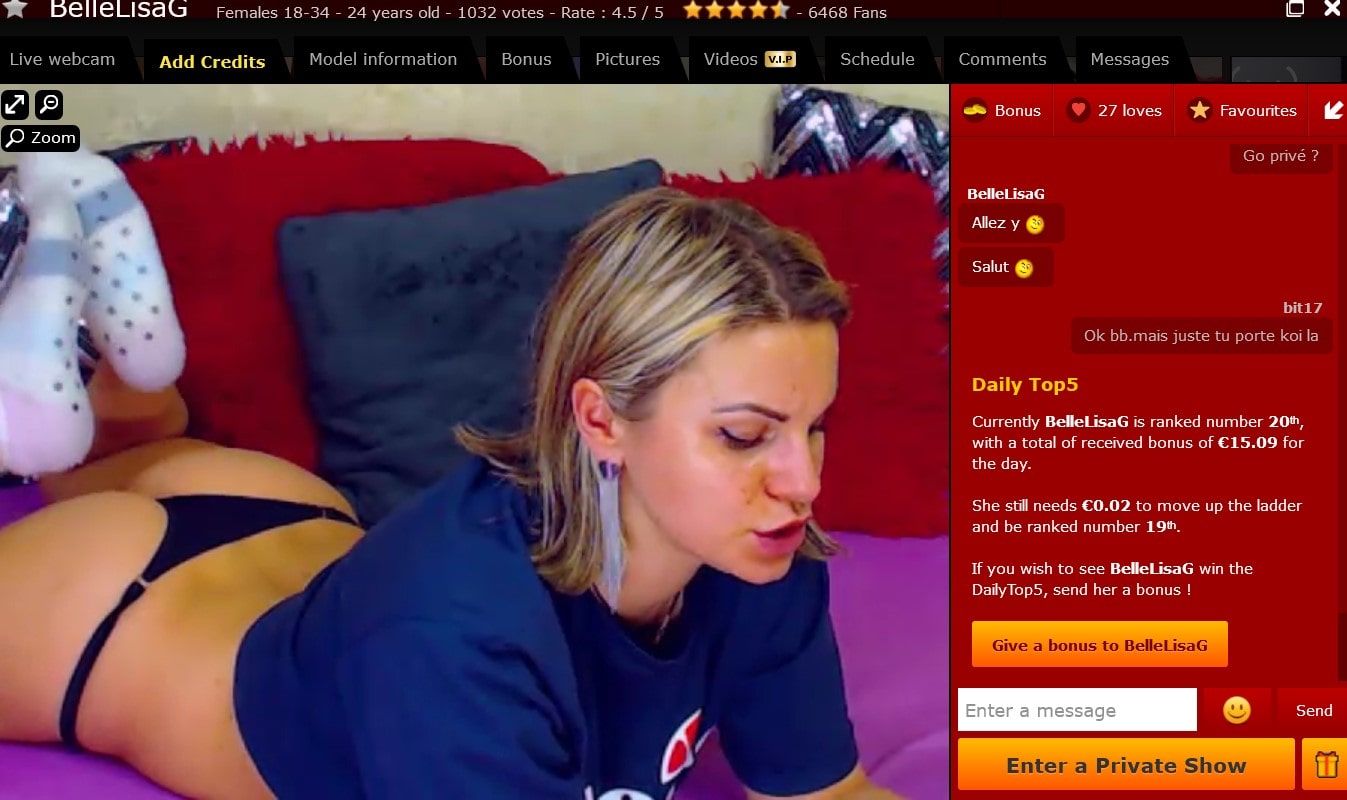 Audience
XloveCams.com is one of the biggest European cam sites, so it makes perfect sense that most of its models are European as well. There is also a small percentage of American and Latin American performers, but the majority of the Xlove performers live in European countries and don't always speak English on a decent level.
When we analyzed the model database for our XloveCams review on AdultCamLover.com, we discovered that the absolute majority of models on Xlove Cams are young women, although there are some men, couples, and trans models performing on the site. Using the search and filters in the left part of the screen, you can look for models with specific appearance traits, kinks, and use of remotely controlled sex toys.
Pricing
There are some things you can do on XloveCams for free, including private messaging, which is usually a paid feature on most webcam services. However, essential features like private chats and bonuses to the models are only available to paying members. You will be first offered a chance to buy credits right after creating your account and you can always do it from your dashboard.
Credits on Xlove Cams are sold in packages, and the price of individual credits and packages changes based on the payment methods you select. This is the first time we at Adult Cam Lover discovered this individual approach to pricing, and we can't say we are pleasantly surprised by it. For example, when buying credits with your PayPal account, you will pay from $1 to $2 compared to paying with a regular credit or debit card.

Safety
Unlike many other adult cam sites, XloveCams.com has not been involved in any major safety controversies, but it's also possible that the site is not popular enough for the perpetrators to target it. There is a customer support system on Xlove Cams that you can access via the form on the site or via live chat.
We liked the fact that XloveCams has SSL encryption on every page to protect the data of the customers, as well as the purchase of credits being recorded on your bank statement under a neutral name instead of Xlove Cams. However, you should still employ the usual precautionary measures to ensure your personal and financial safety.
Summary
XloveCams provides an average quality of video and model selection while its prices are on the more expensive side of the spectrum. Xlove Cams can be a good choice if you have already seen everything other cam sites have to offer, but it has little to no features that can blow your mind.
FAQ
What is XloveCam?
XloveCam.com is an adult cam site where models perform online sex shows for the visitors. The service has been around for more than 20 years, but it is yet to reach the levels of popularity set by other webcam sites that appeared 10 or more years after Xlove's launch.
Is XloveCam safe?
Xlove Cams is a mostly safe webcam site provided that you don't share any of your personal information with the models or other site members. The site has not been involved in any safety controversies and has an easily accessible customer support system.
How much does XloveCam cost?
Signing up for XloveCam.com and viewing public shows is free, but you will need to pay for everything else, including private chat and pre-recorded videos. On average, 1 minute of a private chat will cost you anywhere between 1 and 4 credits with 1 credit costing roughly $1.
Is XloveCam a scam?
No, Xlove Cams does not look like a scam. The situation with different prices for users with different payment methods certainly looks suspicious, but the money you pay in credits is deposited directly to your account and is spent only when you want to spend it on private chats and other paid features on the site.
Can I use XloveCam for free?
Yes, if you are fine with being one of the hundreds of participants in a model's chat room and don't have any specific requests you want the model to fulfil, you can use the site for free for as long as you want.
Does XloveCam have a mobile app?
No, XloveCams does not have a mobile app for any smartphone or tablet. You can open XloveCam.com in the browser of your mobile device, but while the interface of the mobile browser version of the site looks familiar, it doesn't have some of the essential functionality that makes Xlove attractive in the first place.
Are there any sites like XloveCam?
Even though XloveCam.com does have some features that appeal to viewers, including detailed search and a large number of categories, it is absolutely not a unique webcam site. Check out the reviews of other adult cam sites on AdultCamLover to discover your potential new favorite live webcam service.